'There will come a time when I won't be able to cycle' - cyclist with Parkinson's plots 1,100 mile epic
Alison Anderson's latest fundraiser is her most challenging to date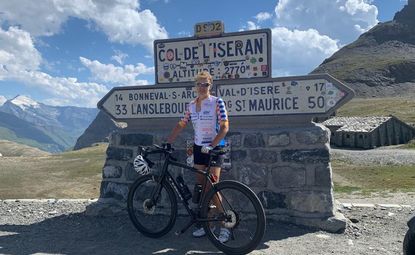 (Image credit: Alison Anderson)
On Tuesday morning, Alison Anderson will set off on the longest bike trip of her life, riding from her home in Cheltenham, UK to Barcelona, Spain.
The 54-year-old, who was diagnosed with Parkinson's in 2015, is undertaking the 1,100-mile journey to raise funds for charity, all the while spreading awareness of the condition she has lived with for the past eight years.
"I'm full of excitement," she told Cycling Weekly, "but quite a lot of trepidation as well. It seems a long journey to be making."
The Scottish-born cyclist will be joined by 19 others for the trip, which officially starts in Brighton on Thursday. Like Anderson, half of the group live with Parkinson's, a progressive condition that affects the brain and nervous system, and includes symptoms such as tremors.
"Cycling gets a little bit harder each year as the disease progresses," she said. "My balance isn't great. My spatial awareness is impaired. If my medication isn't working particularly well, I can struggle to change gears.
"I can't take my left hand off the handlebars because I can't control the bike with my right hand, so I can't signal left. I tire really quickly and I've almost fallen asleep while riding."
In spite of her condition, Anderson has already tackled a host of cycling fundraiser challenges, including a trip across Vietnam, a tour of the Alps and the iconic Land's End to John O'Groats route.
"I used to run," she said, thinking back prior to her diagnosis. "But I find that quite difficult now. I was looking for something that I could do, that I might enjoy, and I took out my old bike, went around the block a few times and thought, 'Yeah, I'll give this a try.'
"I had read that exercise has been shown to delay disease progression in Parkinson's, and that's a pretty big motivator."
According to recent research, cycling is particularly beneficial for motor performance in those with Parkinson's, and contributes to an overall greater quality of life. Still, although riding a bike can help manage symptoms, it is not a cure.
"I know there will come a time when I won't be able to cycle," Anderson explained. "I'm probably at the beginning of that stage where, at some point, I will deem it won't be safe enough, but I think I'm probably two or three years off yet."
With an optimistic tone, she added: "I've still got a few cycling challenges left in me."
To donate to Anderson's Brighton to Barcelona trip and support Cure Parkinson's, please visit her JustGiving page.
Thank you for reading 20 articles this month* Join now for unlimited access
Enjoy your first month for just £1 / $1 / €1
*Read 5 free articles per month without a subscription
Join now for unlimited access
Try first month for just £1 / $1 / €1