Thwaites and Endura win again in Oxford Tour Series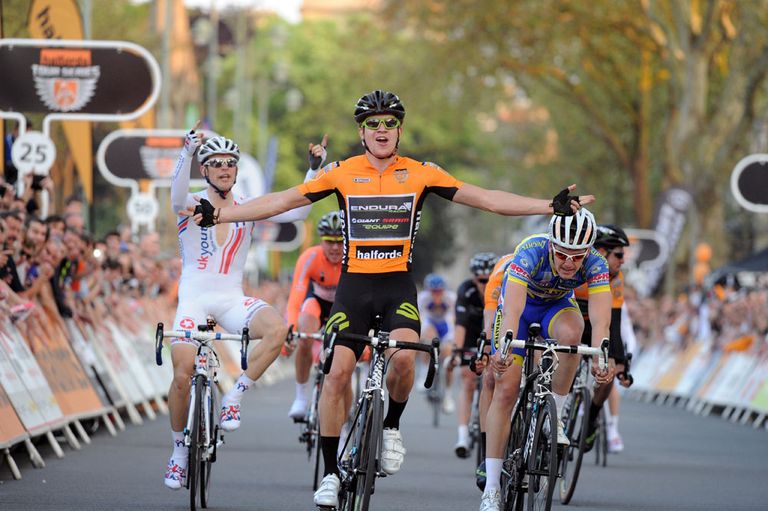 Tour Series 2012 round three photo gallery by Andy Jones>>
Scott Thwaites took his second individual Tour Series win last night as his Endura team once again topped the podium at round three in Oxford.
The Yorkshireman narrowly pipped Marcel Six (Metaltek-Scott) before his team-mates packed out the top ten with Dean Windsor (third) and Jonny McEvoy (fifth) to ensure Endura's unbeaten run in the series continues.
Annie Simpson (Matrix Fitness-Prendas) won the earlier opening round of the Johnson Health Tech GP series
"It was unbelievably hard," Thwaites said at the finish. "It was such a short circuit and there were so many dead turns you could hardly pass at all.
"I was maybe struggling a little bit out of the turns, but with a long sprint like this into a headwind, I think my strength just showed through."
The new Oxford circuit could not have been more different from last week's slippery cobbles in Durham yet it was no less tough; four hairpins separated by pan-flat straights meant riders were sprinting four times in each 1.1km lap.
The 'lap-out- rule, where riders can take up to two laps out and rejoin the field after suffering a mechanical fault or a fall, was for the men's race removed following suspicions of riders in Durham illegally using it to rejoin the front group.
It therefore soon became a case of how long it would take before the elastic in the bunch would snap. Team UK Youth, with former F1 champion and team backer Nigel Mansell watching on, were the beneficiaries when the decisive split came, with four riders making the front group.
High profile victims included Dean Downing (Rapha-Condor-Sharp) and national crit champion Graham Briggs (Raleigh-GAC) while Olympic team pursuiters Ed Clancy (Rapha), Andy Tennant (Rapha) and Steven Burke (IG-Sigma) also struggled.
In the end though it was Endura who positioned themselves best into the final hairpin to continue their near fautless British season.
Results

Team result, Halfords Tour Series 2012, round three: Oxford
1. Endura Racing 10pts
2. Team UK Youth 9pts
3. Rapha-Condor-Sharp 8pts
4. Node4-Giordana 7pts
5. Team Raleigh-GAC 6pts
6. Metaltek-Scott 5pts
7. Herbalife LeisureLakes 4pts
8. Team IG-Sigma Sport 3pts
9. Team Hope Factory Racing 2pts
10. Cycle Premier-Kovert 1pt
Individual result, Halfords Tour Series 2012, round three: Oxford
1. Scott Thwaites (Endura Racing)
2. Marcel Six (Metaltek-Scott)
3. Dean Windsor (Endura Racing)
4. Chris Opie (Team UK Youth)
5. Jonny McEvoy (Endura Racing)
6. Mike Northey (Node4-Giordana)
7. James McCallum (Rapha-Condor-Sharp)
8. James Stewart (Team UK Youth)
9. Niklas Gustavsson (Team UK Youth)
10. Bernard Sulzberger (Team Raleigh-GAC)
Team standings after round three

1. Endura Racing 30pts
2. Rapha-Condor-Sharp 23pts
3. UK Youth 22pts
4. Raleigh-GAC 22pts
5. Node4-Giordana 21pts
6. IG-Sigma Sport 13pts
7. Metaltek-Scott 11pts
8. CyclePremier-Kovert 9pts
9. Herbalife-LeisureLakesBikes 8pts
10. Team Hope Factory Racing 6pts
Team result, Johnson Health Tech Grand Prix Series 2012, round one: Oxford
1. Matrix Fitness-Prendas 39pts
2. Node4-Giordana 37pts
3. Look Mum No Hands! 26pts
4. VC St Raphael 25pts
5. Mule Bar Girls 16pts
6. Team Hope Factory Racing 9pts
7. Scott Contessa Epic 6pts
8. Zappi's Cycling Club 3pts
9. Vivelo Bikes / Inverse Cyclaim RT 1pt
Individual result, Johnson Health Tech Grand Prix Series 2012, round one: Oxford
1. Annie Simpson (Matrix Fitness-Prendas)
2. Hannah Barnes (Team Ibis Cycles)
3. Jo Tindley (VC St Raphael)
4. Corrine Hall (Node4-Giordana)
5. Jo McRae (Look Mum No Hands!)
6. Lucy Garner (Node4-Giordana)
7. Helen Wyman (Kona Factory Racing)
8. Tamina Oliver (Abergavenny Road Club)
9. Natalie Creswick (Mule Bar Girls)
10. Sarah Reynolds (Matrix Fitness-Prendas)
Corinne Hall leads break in Johnson Health Tech Grand Prix
Annie Simpson wins opening Johnson Health Tech Grand Prix
Oxford start line
Jonny McEvoy
UK Youth on the front
James McCallum
Scott Thwaites wins
Related links
Tour Series 2012 round three photo gallery
Halfords Tour Series 2012: Cycling Weekly's coverage index