Tinkoff will not renew sponsorship of Saxo team beyond 2013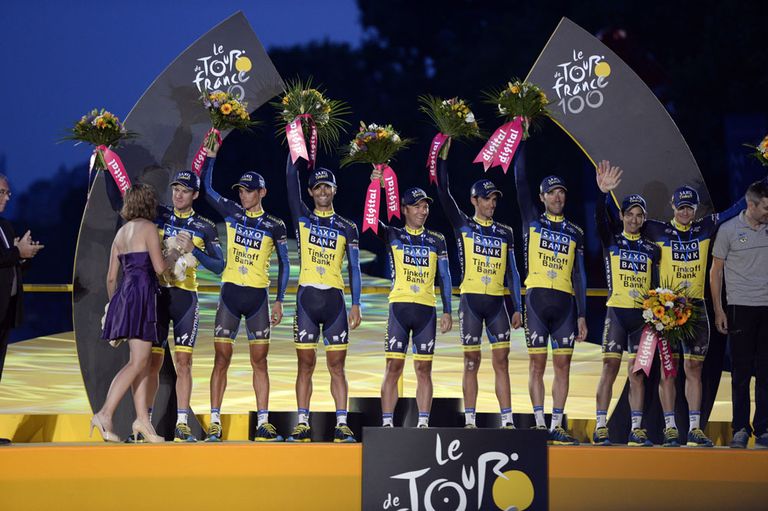 Tinkoff Bank will not renew its sponsorship of the Saxo-Tinkoff squad beyond the 2013 season after contract negotiations between team owner Bjarne Riis and Russian entrepreneur and Tinkoff Bank owner Oleg Tinkov broke down.
Riis issued a statement on Thursday morning confirming that the team had decided to end sponsorship negotiations with Tinkov due to disgareements on how the team should be run. Earlier this week, rumours had circulated that Tinkoff would step up as title sponsor.
"During the course of our extensive negotiations with Tinkoff Bank it has become clear that we are unable to settle on common views and the ideas that are necessary for our partnership to grow and be successful for both parties beyond 2013," said Riis.
"Most importantly, we disagree on how the team should be run. For all of these reasons, I have decided to explore other possibilities and end the negotiations with Tinkoff Bank. I would like to thank Oleg Tinkov personally and Tinkoff Bank for their great contribution to the team."
During and after the 2013 Tour de France, which saw Saxo-Tinkoff's Alberto Contador miss out on a podium position, Oleg Tinkov had used his personal Twitter account to openly question the team's tactics and performance, something that is generally unheard of for a sponsor.
"Conta[dor's] performance wasn't good. He need to change many things in his preparation and be more PRO. Will he do that? That's the question..." said Tinkov.
"His salary doesn't match his performance. Too rich and isn't hungry, that's my opinion, and I deserve it. He must work harder."
Although Saxo Bank has committed to supporting the team through 2014, the situation leaves Riis once again in the search for a major co-sponsor for his WorldTour team.