Trott, Kenny, Armitstead and Clancy line up for Revolution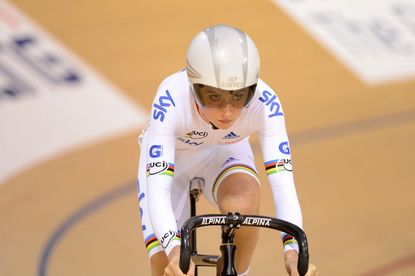 Olympic gold medallists Laura Trott, Jason Kenny and Ed Clancy will take part in the 2013-14 Revolution track series, which kicks off on October 26 in Manchester.
This season's series has been expended to five events, included a two-day event for the first time at the London velodrome where Trott, Clancy and Kenny scored their gold medals in the 2012 Olympic Games.
Olympic road race silver medallist and British road race national champion Lizzie Armitstead will also ride in the series.
"I can't wait to compete at the Olympic Velodrome again in front of a packed house," said Trott. "The venue holds special memories for me and I'm really excited to experience that unique atmosphere again. Racing in London will be the perfect way to round off the Revolution Series."
The first round of the 2013-14 Revolution series takes place at the National Cycling Centre in Manchester, which also hosts rounds three and four on January 4 and February 1. Round two takes place at the Sir Chris Hoy Velodrome in Glasgow on November 30. The final round in London takes place over March 14-15.
The series has been newly sanctioned by the Union Cycliste Internationale (UCI) as a Class 1 event and will offer qualification points for riders wishing to take part in the UCI Track World Cup, and ultimately the World Championships and 2016 Olympic Games in Rio. It should ensure that an top-level international field of riders will be in attendance.
"We've confirmed a world-class group of riders to do battle at the next Revolution Series and there will be plenty more to come," said James Pope of organiser FACE Partnership.
"We're delighted to give fans a first chance to see elite track cycling at Olympic Park since the Olympics and Paralympics in 2012. We can't wait to go back to Glasgow too - and having three rounds in Manchester will mean plenty of action for our loyal fanbase at the National Cycling Centre."
Limited numbers of tickets are still available for all dates in the series and are available via Quay Tickets.
Revolution track series 2013-14
Round 1: October 26 2013 - National Cycling Centre, Manchester
Round 2: November 30 2013 - Sir Chris Hoy Velodrome, Glasgow
Round 3: January 4 2014 - National Cycling Centre, Manchester
Round 4: February 1 2014 - National Cycling Centre, Manchester
Round 5: March 14-15 2014 - Lee Valley VeloPark, London
External link
Thank you for reading 5 articles this month* Join now for unlimited access
Enjoy your first month for just £1 / $1 / €1
*Read 5 free articles per month without a subscription
Join now for unlimited access
Try first month for just £1 / $1 / €1