Tweets of the Week: AI goes to work for Ineos Grenadiers, Elisa Balsamo graduates and Trek-Segafredo go sightseeing
There's also a Belgian take on bread pudding, and in happy and less off-the-wall news, Nielson Powless and his wife are expecting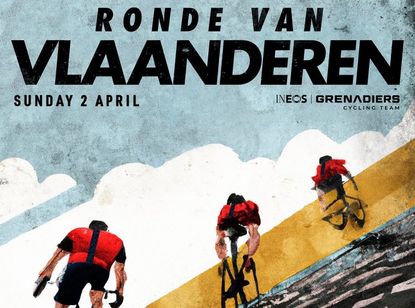 (Image credit: Ineos Grenadiers / AI)
AI is getting 'mega trendy' these days, as the kids say, so what better way to announce your Tour of Flanders team than getting AI to design a poster for you? That's what Ineos Grenadiers did, and we reckon it's pretty good in a sort of dodgy impressionist way. It definitely captures something of the vintage aesthetic, so well done AI, whoever you are (these modern creatives who only use their initials, eh?).
One job AI can't do is pro bike racing (famous last words?), and even if it could, one rider who'd be less worried than most is Elisa Balsamo as she now has something to fall back on. She has just completed a degree in modern literature and wrote a thesis titled 'Languages and Variants of Giovanni Testori's book Il dio di Roserio'. Come and have a go if you think you're clever enough, AI.
Balsamo is also a virtuoso pianist and has dreams of a career in journalism. Now that's something we definitely know AI could never do. Ever. EVER... sorry, I lost myself for a moment there. On with the Tweets of the Week.
1. Trek-Segafredo look slightly bereft on the Volta Catalunya podium with more than half of the squad having dropped out of the race over the week. Still, they've got their invisible friends with them...
Us and all our mates for #VoltaCatalunya102 stage 7 🤭 pic.twitter.com/7NNqm0miXUMarch 26, 2023
See more
2. Following her win at Dwars Door Vlaanderen Demi Vollering looks to have finally made her peace with her equine nemeses, after her scary encounter with a stray horse en route to Strade Bianche victory in March.
Looks like Demi loves horses after all… 🐴 #DDV23 #DVVwomen 📸 L. Claessen/Gettysport pic.twitter.com/zQwT8PweV6March 29, 2023
See more
3. And now the good news... EF Education's Nielson Powless and his wife Fran are expecting a visit from the stork. Congratulations all!
4. Whichever order they do it in, Mads Pedersen, Jasper Stuyven and Elisa Longo Borghini all seem determined to make the most of their time in Bruges with a little sightseeing, as well as racing of course. Or is is the other way round?
Race first. Sightsee later. #RVV23 pic.twitter.com/ku0TGN3AVZMarch 30, 2023
See more
5. Has anyone seen Matteo's jacket? Sounds like he might make it worth your while if you can return it to him...
For the guy that pick up my jacket on Kortekeer! Thank for take it but can i have it back?? wether here does not look beautiful for.the next days so any piece of clothing can be useful 😁 I will find some goods to exchange itMarch 25, 2023
See more
6. A favourite of British time triallists in village halls up and down the country, Intermarché-Circus-Wanty now bring you their own take on bread pudding. Enjoy!
Our nutritionist Jana made bread pudding for the riders 😋We have the recipe for you 🙌 pic.twitter.com/GVp0h1makAMarch 30, 2023
See more
7. Hats off – or indeed, hat on – to Elisa Balsamo, a woman of many talents.
Proud of you, @Elisa_balsamo! Congratulations 👩‍🎓👏 pic.twitter.com/v62h1k9ObrMarch 29, 2023
See more
8. Ineos Grenadiers announce their line-up for De Ronde with a little AI impressionism.
"A film poster of a cycling race about a cobblestone hill" ☑️🤖 Artwork: AI👨‍🎨 Finishing touches: Grenadier designer A #RVV23 poster with a difference pic.twitter.com/grfHYbzBIeMarch 31, 2023
See more
9. Someone has made someone mad. Real mad. And someone looks like they're giving Wout Van Aert a push.
https://t.co/mFAKpPffsZ pic.twitter.com/HbnncbllXqMarch 31, 2023
See more
10. A beleaguered Kirsten Faulkner ensures she's up to date with all those tricky UCI rules.
I'll add it to the list 🙇‍♀️@UCI_cycling https://t.co/BvkqvnJpXbMarch 24, 2023
See more
Thank you for reading 20 articles this month* Join now for unlimited access
Enjoy your first month for just £1 / $1 / €1
*Read 5 free articles per month without a subscription
Join now for unlimited access
Try first month for just £1 / $1 / €1