Tweets of the week: Tom Dumoulin runs, Lotte Kopecky guts a fish, and a Mark Cavendish interview
It's everyone's favourite cycling social media roundup as we head into the off season proper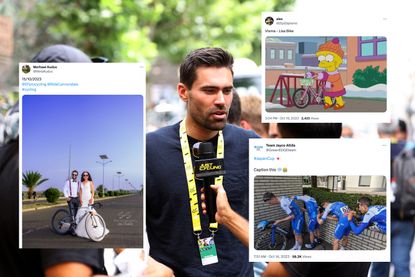 (Image credit: Getty Images)
What do Tom Dumoulin and I have in common? No, I've never won the Giro d'Italia or been world champion, and I'm pretty sure he doesn't have his ears pierced or a particular love for Jonathan Meades.
Our shared interest, apparently, is running. The Dutchman, who rode for Sunweb and then Jumbo-Visma, retired from cycling last year, but has seemingly kept in good shape. We both ran half marathons this year, but I finished my 13 miles in well over half an hour more than Dumoulin managed in Amsterdam last weekend.
The 32-year-old - yes he is only 32 - ran the half in 1-10-04, less than 13 minutes behind the record time for a man. While it is hardly surprising that a professional cyclist is good at endurance efforts or cardio-based sports, running and cycling require different muscles and a different approach, so the whole thing is mightily impressive. Well done Tom.
That was the most exciting thing I saw on cycling social media this week, as most riders and teams head off on their off-seasons. Expect a lot of beach pictures over the next fortnight as people try to get as far away from their bikes as possible before climbing back into the saddle ahead of the 2024 season. It's almost November, terrifyingly.
Among other things to note this week, there's Toms Skujinš being the most colourful man in the world, Lotte Kopecky on a boat gutting a fish (things you always wanted to see) and Mark Cavendish gives out a short interview at the Tour of Turkey.
1. I wish I stayed in fancy enough hotels to get robes. Well done to Josie Nelson and Tiril Jørgensen for making the most of it
2. An emotional post from Jens Keukeleire marking the end of 14 years a pro cyclist. Beneath the likes of Peter Sagan and Thibaut Pinot retiring there's a whole tranche of riders leaving the pro ranks. "Finished the first stage of my last race," he wrote.
3. The PG version of the Human Centipede has arrived
3. Is there anything Lotte Kopecky can't do? Did Valerie Jenaer catch that fish with her bare hands? What's going on
4. Please, Tom, give us normal people a chance. "I found a nice group going slightly faster" what the hell is this
5. "I'm OK thank you" - Mark Cavendish, ladies and gentlemen
6. Free from his staid Lidl-Trek kit, Toms Skujinš is going colour crazy
7. I've never really understood how soigneurs do this. Do they practice at training camps?
8. Zoe Bäckstedt is full chaos and we are here for it
9. Mathias Norsgaard was casually cycling around with a big bit of titanium in his leg? What? Why? Ow.
10. It's your wedding day. Got your suit? Check. Got your braces? Check. Got your SuperSix with you? Well, yes...
11. We've all been there, misjudging the depth of a puddle. Dani Martínez seems to have misjudged a... river?
12. Introducing the new SRAM-sponsored athlete, Valteri Bottas. He looks good on the tiny bike!
13. How often is this going to play around in your head next year? Perhaps too often
14. And finally... Everyone's favourite professional track competition is back this weekend, and the TikTok dances are HERE
Thank you for reading 20 articles this month* Join now for unlimited access
Enjoy your first month for just £1 / $1 / €1
*Read 5 free articles per month without a subscription
Join now for unlimited access
Try first month for just £1 / $1 / €1