Tweets of the week: Tour de France criterium season hits, stormy cycling, and a bike wedding
Also, how to have extra fun at a cyclo-cross race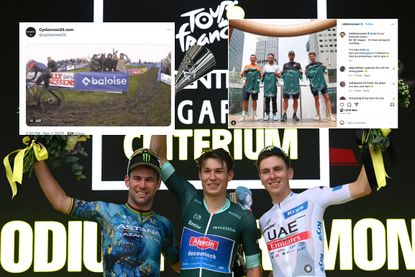 (Image credit: Getty Images)
We are so deep in the road cycling off-season that people start pretending that fake races are news and worth paying attention to. Sorry to the Tour de France Criteriums in Singapore and Saitama, but it is scraping the barrel to say that the events are in any way interesting and much more than marketing exercises.
Still, that does not stop them being a treasure trove for social media managers, as some of the stars of cycling gather to do fun things like race rickshaws or try their hardest to look liken they're putting effort into a pre-ordained race.
For those that weren't paying attention last weekend, Jasper Philipsen won a sprint at the end of the 60km Singapore Criterium, ahead of Mark Cavendish and Tadej Pogačar. For some reason, Peter Sagan and Chris Froome were also allowed to attack on a flat course, something that the latter is unlikely to have ever done before, in his professional career anyway. It's almost as if it is all a silly affair, but that couldn't be true, right?
This weekend is the Saitama Criterium, and we hope you're all glued to your seats for the highlight of the year. Can Jonas Vingegaard win? Probably.
Sorry, you're probably inferring the ennui that is building as we are about as far from cycling excitement as possible at the moment, but hopefully that will pass as we grind, slowly, towards the new season.
Fortunately, cyclo-cross is here to distract us from the outside world, and the Koppenbergcross certainly entertained this week, but as exciting as Fem van Empel and Thibau Nys were on the course, the fans really caught our eyes. Top marks to the group of Belgians discussed below, who were surely deep into their Orvals by this point.
Elsewhere, Elisa Longo Borghini took her bike to her wedding - like Merhawi Kudus last week, it's a thing - and Marcel Kittel met some confused schoolchildren.
1. Let's talk rickshaw race technique. Jasper Philipsen looks the most suited to this new sport, while Mark Cavendish looks broadly confused, and Chris Froome is not the man you want pulling you along, is he. Put your GoPro away!
2. Meanwhile does this look fun? I'm unconvinced. What a group to go out riding with, though. My biggest question, though, is why is Chris Froome the only person who accepted Le Tour's post sharing on his Instagram, hmm.
3. Four Tour de France "green" jersey winners, only one smile. What did the cameraman say?
4. Marcel Kittel is a superstar in Japan, for some reason, this is what I'm learning. I mean, he's a great guy, but I didn't expect this level of excitement for the German. Must be because he's so good looking.
5. Ok, let's take Kim Heiduk's analogy seriously. Re-signing with Ineos Grenadiers feels like hitting a low crossbar from 30-ish metres. So a quick feeling of elation, followed by nothing. Fair enough!
Continuing with @INEOSGrenadiers feels like …🤩 https://t.co/fmbqYuKHXs pic.twitter.com/eWxJbCcbfjOctober 31, 2023
See more
6. Ever the professional, Emma Finucane was straight to her warm down post this track session, and who can blame her. The rainbow bands are so cool, shame about the Shell logo...
7. At least someone was definitely having fun in Singapore
8. Do what you want with your free time, but I think carving the Giro d'Italia logo is a level of cycling fandom that I have never risen to
5 points if you can tell which race logo this is pic.twitter.com/WqpnNU1F5jOctober 29, 2023
See more
9. Now, I'm not doubting Soudal Quick-Step's social media manager, but I have reason to believe that this post is not from now. Why? Well, Remco Evenepoel is still in his World Championships kit. Secondly, I have a vague recollection of this being from before... I'm going to say it's from the Tour de San Luis early this year instead. Your move.
10. The Canadians have found ways to keep themselves entertained at the Track Champions League
11. Congratulations to Elisa Longo Borghini and Jacopo Mosca, who got married last week - the appearance of bicycles at weddings continues, growing unabated.
The sweetest victory of all! Congratulations to @ElisaLongoB and @SunJjak on their beautiful wedding! 🫶😍 pic.twitter.com/a7tuMgdVt4October 28, 2023
See more
12. This is very much what cycling in western Europe has felt like over the last few days. Good luck to you all out there.
It's a wild cycling day today!#StormCiaran #Ciaran pic.twitter.com/mDDsiPlsl0November 2, 2023
See more
13. Finally, a work of genius from the Koppenbergcross. This bunch of lads had different moves for every time the action panned to them, and we can only salute this.
Thank you for reading 20 articles this month* Join now for unlimited access
Enjoy your first month for just £1 / $1 / €1
*Read 5 free articles per month without a subscription
Join now for unlimited access
Try first month for just £1 / $1 / €1