Tweets of the week: Tour de France lands in Bilbao, Lidl madness and a very young reporter
All eyes are on the Basque Country and the Tour, but that doesn't mean the social media grind stops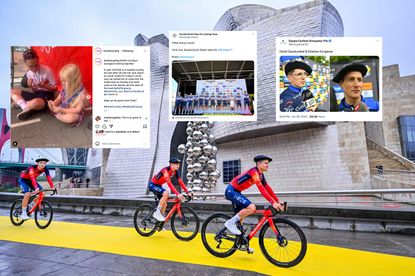 (Image credit: Getty Images)
In less than 24 hours time, the 176 riders of the 110th Tour de France will ride out of Bilbao to embark on the opening stage of the race. It really is crunch time, which means the tension is rising, but that does not mean there isn't time to post on social media. What else are you supposed to do the day before the biggest bike race of the year?
The team presentation always provides great fodder for content, with riders put out of their comfort zones in innovative new ways - last night it was making everyone wear Basque berets while some of them had to speak to an AI version of the Tour's mascot, Maxoo.
The weeks of build-up all come to this point, but that doesn't mean there isn't time to be silly online, in fact, it might be a useful way of bursting the mounting pressure.
All the pros are at it, if you take a look at social media. It's almost as if they are just like us, scrolling and posting on Instagram or Twitter to pass the time. Fancy that.
In this week's basket of social media goodies - not all of which are Tour de France themed - there is a wide variety of content. There is a river of rainfall at the Giro d'Italia Donne, Soudal Quick-Step's frankly ridiculous squad for the Belgian National Championships, a very young reporter at the British nationals, and the world of cycling going mad for Lidl. Strap yourself in.
1. Just Charlotte Kool having fun on the wrong kind of two wheels. Charlotte... Cool?
2. Alaphilippe finally met the Allain Philippe guys. Cute
3. Lotte Kopecky: not just Belgium's best female cyclist, but also a hilarious practical joker, maybe
4. How many riders is *too* many riders? Possibly 12 on one team
5. Annemiek van Vleuten: history maker, Tour de France Femmes champion, flag waver?
6. Leave Pierre Rolland alone, Romain Bardet, all he has left is his Strava KOMs. Oh no.
7. Mads Pedersen clearly flouting drafting rules here. Seriously though, I would not want to do this. It looks terrifying.
8. We'd better watch out at Cycling Weekly, Elsie is coming for our jobs
9. Speaking of youth, this Ineos Grenadiers squad looks barely older than 4? That can't be legal
10. All I want in life is the Ellen van Dijk bobblehead. That's it.
11. 3-year-old Ben Turner didn't know the meaning of aero. Now he's at his first Tour de France, this might have changed
12. Thibaut Pinot has let loose his goats in San Sebastián, seemingly. A clever ploy?
13. Are they spelling out Lidl or are they doing an arty tribute to the 1965 Beatles album Help!
14. Impossible to look bad in one of these beret things, I reckon. David Gaudu looks sharp, in his absolutely massive specs
15. Sepp Kuss has nailed it here
16. That water is probably not meant to be there...
17. Finally, Wout knows that stage one is Saturday, not today, right? Right? Wout?
Thank you for reading 20 articles this month* Join now for unlimited access
Enjoy your first month for just £1 / $1 / €1
*Read 5 free articles per month without a subscription
Join now for unlimited access
Try first month for just £1 / $1 / €1