Tweets of the week: When cycling goes mainstream, George Bennett loses his bike, and the sandy Saudi Tour
Two unknown cyclists went viral last weekend, it's a shame that we will never know their identities. All that, and more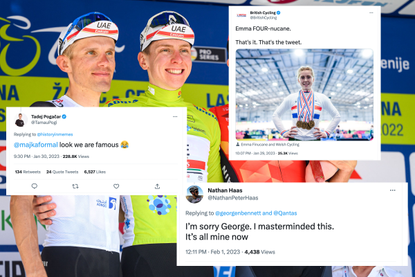 (Image credit: Getty Images)
Sometimes, the world reminds us just how niche a thing cycling really is. Not just in general, but also in the world of sport. The top riders aren't really famous, apart from in Belgium maybe, not in the same sense as a footballer anywhere, or a cricketer in India.
Yes, this sport that we adore, that we spend our whole lives obsessing over, that we are convinced that everyone would love given the chance, really is not as popular as we wish it was.
Cycling's online world was reminded of this harsh reality last week, as the sport went viral, but not in the ideal way; it was not an exciting moment of racing that broke through, nor even something particularly current, it was a clip from last June's Tour of Slovenia.
The footage from the bike race was shared by all the big meme accounts - who all like to copy each other, one by one - with the caption "two cyclists leading the Tour of Slovenia decided to choose the winner with rock, paper, scissors".
No context was provided for the fact that this was the world's best cyclist, Tadej Pogačar, with his teammate Rafał Majka, or that this was stage four, where the UAE Team Emirates pair had forged off the front of the race together, and had the time to decide which would win.
Obviously, shorn of any explanation, it confused the normies, the people who know nothing of bike racing. One tweeted: "So much for the thrill of victory, and the agony of defeat. Congratulations to the winner of the rock, paper, scissors game," while another argued: "Stupid. Opens up the door to all sorts of corruption. Race is a race."
It's fun to be reminded that most people are broadly nonplussed or ignorant of cycling, as someone who works in the sport, and that silly memes are the only way the consciousness is raised. Anyway, all this and more in this week's exciting and not at all demoralising Tweets of the Week!
1. Two random guys win a random bike race, how cute
2. One of those random guys, two-time Tour de France winner Tadej Pogačar, saw the funny side of it
3. Poor George Bennett, all he wanted to do was fly home to New Zealand and yet Qantas somehow managed to lose his bike. It happens to the best of us
4. An immediate suspect was Nathan Haas, who admitted to the crime publicly
5. However, thanks to using his power as a vaguely famous person on the internet, and some luck, Bennett got his equipment back. Roll on the Kiwi nationals!
6. Movistar might already have won two races in 2023, but their tactics still need improving somehow. Finishing third, fourth and fifth is genuinely impressive
7. Who knew Miguel Ángel López was so small? Not me
8. Congrats Emma Finucane, winner of four national titles at the UK track champs last weekend. Shame she had to endure this poorly crafted pun
9. The Saudi Tour has proved, once and for all, that Saudi Arabia is full of sand. That needed investigating
10. Christine Majerus, multiple-time Luxembourg national champion, SD Worx road captain deluxe, and now a climber. Good to see climbing is not just an English craze
11. I'm not the only person who knows how to use Photoshop, as Tao Geoghegan Hart proved this week
12. Rui Costa has already won a race this season, at the Challenge Mallorca, but appears to be good at football too. Or something
13. Back to the Saudi Tour and its sand. There's a lot of it!
14. There's more than sand, though, there's also rampant American commercialism, of course!
15. Finally, as we've made it into February, how many people are hanging onto their resolutions like this?
Thank you for reading 20 articles this month* Join now for unlimited access
Enjoy your first month for just £1 / $1 / €1
*Read 5 free articles per month without a subscription
Join now for unlimited access
Try first month for just £1 / $1 / €1