'He was shouting just like on the TV' - British cyclists almost ride into live police firearms incident
'It was the last thing you expect on a country cycle ride,' said one of the cyclists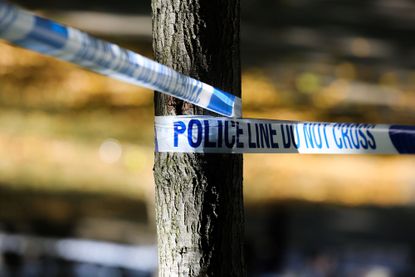 (Image credit: Getty Images)
Two British cyclists were left shocked last weekend when they accidentally stumbled upon a live Police firearms incident while out for a bank holiday bike ride in Oxfordshire.

According to a report from the Oxford Mail, 74-year-old Will Merrell and his partner Jane were enjoying a cycle ride when they were stopped by armed police in the village of Chetwode, on the border between Oxfordshire and Buckinghamshire, and told to turn around and leave.

Dressed all in black, with helmets and guns, the officers involved were reportedly dealing with a live firearms incident and asked the couple to swiftly leave for their safety.

Mr Merrell, from Croughton in Northamptonshire, told the Oxford Mail that the incident was "the last thing you expect on a country cycle ride."

The Police operation resulted in a 38-year-old man, Robert Farndon, being arrested and charged with assault, possession of a firearm with the intention to cause fear of violence and threats to kill.

After criticising Thames Valley Police for not immediately blocking off the area, Merrell said the incident was "just like on the TV".

"There was a helicopter up in the sky going round and round and round," he said. "We turned a corner in Chetwode, and we came down the road two or three hundred yards."
As the couple passed two BMW Police vehicles parked by a row of houses, Merrell explained that two officers jumped out and "went wild" asking them to turn back.

"They shouldn't have let us go through or let anyone near it. We got past the two cars, and they must have realised there were two cyclists and they jumped out," he added. "One of the blokes just went wild saying, 'You can't come here.' He was shouting just like on the TV when they bash the doors down.

"The other man had a bit of a conscience and asked politely if we could turn around and said, 'We have a firearms incident.' It seems to me you don't have to shout. I turned around and said, 'Don't shout at me.' There was no need for what he had done.
"If he was on the ball, they would have blocked the road. If it was that important. But they didn't and they didn't see us or hear us. They were tucked behind the car and suddenly we were there."

The couple immediately left the scene and were quick to warn other cyclists that were approaching the area.

A spokesperson for Thames Valley Police said: "Our officers were dealing with a live firearms incident and had to ask members of the public to move away from the area to keep them safe."
Thank you for reading 10 articles this month* Join now for unlimited access
Enjoy your first month for just £1 / $1 / €1
*Read 5 free articles per month without a subscription
Join now for unlimited access
Try first month for just £1 / $1 / €1
Tom is a News and Features Writer at Cycling Weekly, and previously worked in communications at Oxford Brookes University. Alongside his day job, prior to starting with the team, he wrote a variety of different pieces as a contributor to a cycling website, Casquettes and Bidons, which included interviews with up and coming British riders.