UCI appeals Alex Rasmussen whereabouts acquittal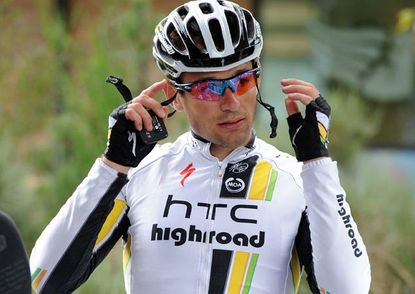 The Union Cycliste Internationale (UCI) said today that it appealed against Denmark's decision to acquit its rider, Alex Rasmussen. The cyclist missed three anti-doping controls in an 18-month period, which is considered the same as a failed doping test.
"I'm not super surprised by it," Rasmussen told Danish news agency, Ritzau. "I know it's a matter of principle for them [the UCI] and that they'd push for it."
Rasmussen rode this year with HTC-Highroad and the previous two years with home team, Saxo Bank. He had already signed a contract with American team, Garmin-Cervélo for next year when the three missed controls came to light on September 15.
Garmin at the time said that Rasmussen "will not be joining our team." However, after the Danish federation (DIF) acquitted him, team manager, Jonathan Vaughters said that he has "a fully valid contract with us" and "of course he rides for us next year."
The DIF acquitted him due to a technicality, which allowed it to count only two missed controls instead of three. On November 17, the federation said that the UCI failed to meet World Anti-Doping Agency's 14-day notification deadline when reporting a missed control and therefore, it is unable to ban Rasmussen.
In February 2010, he was not present when Anti-doping Denmark (ADD) visited. In October the same year, he failed to report his whereabouts in a timely matter. Both times, the ADD warned him within the same month. The third, and crucial, missed control came days ahead of this year's Giro d'Italia, on April 28. The UCI was unable to find him when it went to Spain for an anti-doping control and on August 18, sent him a warning letter.
Torben Jessen, president of DIF's doping tribunal explained the acquittal in November. He said: "The UCI spent 10 weeks to report the infringement, while the international [World Anti-Doping Agency (WADA)] standard dictates 14 days."
The UCI, however, told Ritzau that it filed an appeal with the Court of Arbitration for Sport (CAS). The Swiss court is the highest judicial body for sports cases. Rasmussen is confident he will be acquitted in Lausanne, Switzerland, as he was in Denmark.
"I will be acquitted," Rasmussen told Ritzau, "because it is WADA's rules they follow, the same rules the federation used to acquit me."
Brian Holm explained to Cycling Weekly in September that his former HTC rider is a forgetful person.
"He's not cheating anybody, he's not doing any forbidden products. Everyone knows he's a good healthy young rider," said Holm. "He did have an error in his papers that he should have taken care of."
The CAS was unavailable when contacted by Cycling Weekly to confirm that it received the UCI's appeal.
Related links
Rasmussen acquitted by Danish federation over missed dope controls
Thank you for reading 20 articles this month* Join now for unlimited access
Enjoy your first month for just £1 / $1 / €1
*Read 5 free articles per month without a subscription
Join now for unlimited access
Try first month for just £1 / $1 / €1