'Ultimately cyclists are just narcissists' says TV broadcaster and psychotherapist
Lucy Beresford said cyclists carry a "sense of entitlement" and need to recognise they're not "the only people on the road"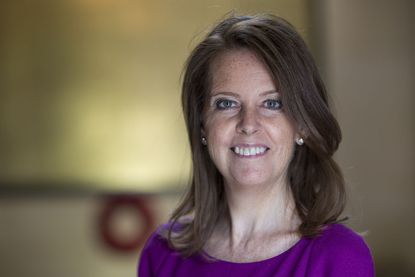 Writer, broadcaster and psychotherapist Lucy Beresford has claimed that cyclists are "narcissists", speaking on the Channel 5 programme 'Jeremy Vine on 5'.
Vine, a long term cycle commuter who has shared helmet camera footage of near misses from his rides in the past - taking one driver to court over agressive behaviour - threw his head on the table and laughed when Beresford shared her opinions.
"You need to recognise that you are not the only people on the road," she went on.
The Agony Aunt of ITV's 'This Morning' and LBC's 'Sex and Relationships' host added that her concern was "about [cyclists'] sense of entitlement... they feel, when they are on the road, nothing else matters."
Dan Snow, TV presenter for a host of history documentaries among other productions, was also among Vine's panel of guests for the broadcast on Friday.
Snow challenged Beresford's comments and said: "we should be giving cyclists medals."
"Cars kills thousands of people a year. We've got an obesity epidemic and we are here, feeling defensive about cyclists," he said.
"People in cars are isolated, they get depressed. We have a problem with mental health in commuting, we've got people in their little vehicles, getting fat, eating rubbish! Cars are a catastrophe," Snow said.
A YMCA study published in 2017 showed that physically active people had a 'wellbeing score' 32 per cent higher than those with inactive lifestyles.
In June this year, the Department for Environment, Food and Rural Affairs supported 'Clean Air Day', a day dedicated to focusing attention on reducing outdoor pollution - which contributes to 40,000 annual deaths.
Vine added: "[Cycling] changed my life! It was fantastic. But I find I'm in a group now of people who are hated. I don't know why we're hated so much!"
Thank you for reading 5 articles this month* Join now for unlimited access
Enjoy your first month for just £1 / $1 / €1
*Read 5 free articles per month without a subscription
Join now for unlimited access
Try first month for just £1 / $1 / €1