Benefits of cycle commutes highlighted on Clean Air day
Outdoor pollution is linked to around 40,000 deaths a year, and children breath in 30 per cent more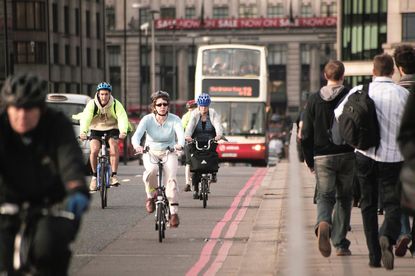 (Image credit: Richard Baybutt)
The benefits of choosing to commute by bike have been highlighted as the nation celebrates "Clean Air" day.
The 24-hour period is dedicated to focusing on reducing current levels of pollution was introduced in 2017, with support from the Department for Environment, Food and Rural Affairs.
This year the day coincides with the revelation that not only does outdoor pollution contribute to 40,000 annual deaths, but children are being exposed to 30 per cent more pollution than adults while walking along busy roads.
The research was carried out by NGO Global Action Plan and released to coincide with Clean Air day. It was based on experiments in Manchester, Leeds, Glasgow and London - the reasoning is that children's height means that they're in closer proximity to vehicle exhaust fumes.
>>> Is the Cycle to Work scheme still relevant in 2018?
Evidence comes from thermal imaging which looked for C02, but also illustrates how children breathe in more nitrogen oxide, nitrogen dioxide and diesel particulates.
Several cycling organisations have used Clean Air day to highlight the benefits that can be reaped when people choose to ride instead of drive when going about their daily business.
Sam Jones, communications officer at Cycling UK, told us: "Every year in the UK, outdoor pollution is linked to around 40,000 deaths. Road transport is responsible for about a third of nitrogen oxides emissions, and over a quarter of particulate matter: both known health hazards.
"Cycling contributes to cleaner, healthier air effectively saving lives and making the world a better place to live. It's also one of the most fun ways to commute, where you're also always guaranteed seat!"
>>> Lorries and close passes are the biggest deterrents putting people off becoming cyclists, poll concludes
Cycling UK is keen to encourage employers to champion cycle commutes, and it's piloting a 'Cycle Friendly Employer' accreditation scheme (opens in new tab) with the help of Sustrans - initially in Northern Ireland with a view to roll it out across the UK later in 2018.
Employers with showers, bike mileage reimbursements, and incentives to get more staff cycling will receive a 'Gold' award, with Silver and Bronze also available.
"Beyond the obvious environmental benefits of encouraging cycling, there's a vested interest for business to help encourage their workforce to cycle to work. While it can help cut the cost of maintaining expensive staff car parks, studies show staff who make the journey in by bike are more productive and less likely to take sick days," Jones added.
Whilst charities like Cycling UK and Sustrans are driving for greater provision for cyclists, there's concern that in some areas funding isn't being well thought through.
Cycling charity Sustrans has given evidence that walking and cycling schemes in Wales are receiving government funding despite potentially being poorly designed.
The Welsh Government has invested around £75 million in active travel, £23m of which was spent in the last financial year.
Sustrans' national director, Steve Brooks, however told assembly members: "There still remains no central quality assurance over active travel schemes on the ground in terms of design details and therefore many schemes continue to receive Welsh Government funding despite the fact that they may be poorly designed, or that they utilise older design standards."
He believes current funding "puts too much pressure on local authorities to deliver schemes without appropriate preparation and effective design" and that "Welsh Government funding programmes should be spread over multiple years and monitored effectively to ensure they deliver sustainable and cost effective infrastructure that actively encourages greater use."
Thank you for reading 5 articles this month* Join now for unlimited access
Enjoy your first month for just £1 / $1 / €1
*Read 5 free articles per month without a subscription
Join now for unlimited access
Try first month for just £1 / $1 / €1