USA Cycling pays tribute to champion cyclist killed in hit and run incident
25-year-old Jake Boykin killed in Tallahassee, Florida on 22 September after being struck by pickup truck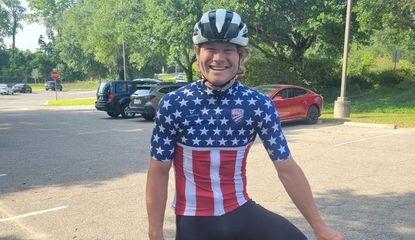 (Image credit: USA Cycling)
USA Cycling has paid tribute to an American cyclist who was killed in a hit and run incident in Florida last Friday.

Twenty-five year-old Jake Boykin died as a result of injuries he sustained after being struck by a driver in a pickup truck in Tallahassee, Florida on 22 September.

Earlier this year, Boykin won the 2023 USA Cycling collegiate road national championship time trial in Albuquerque, New Mexico. He was on his final training ride as he prepared to compete at Six Gap Century's 100 mile course through the North Georgia mountains when he was killed.

In a statement from USA Cycling, Boykin's family paid tribute to the 25-year-old calling him a "bright ray of sunshine".

"For every bit as incredible a cyclist as Jake was, he managed to be an even more incredible human being," the statement said. "His enthusiasm for life was infectious as was his passion to make himself and others better. His willingness to invest in listening, supporting and truly loving everyone that he came into contact with was awe-inspiring.

"Both on the bike and off, Jake was a force. He was the bright ray of sunshine that this world needs more of. The Tallahassee cycling community is shocked and saddened by his tragic passing, but more than anything, we are immensely honoured and privileged to have been given the gift of his companionship. We love you, Jake! May you rest in peace."

As well as being a national championship-level cyclist, Boykin was also a successful student and was studying for a PhD from Florida State University.

USA Cycling shared further information about Boykin's studies as well as the horrendous incident which cost the 25-year-old student his life.
"According to documents obtained from the Florida Highway Patrol, a driver struck Boykin while he was cycling in Jefferson County, Florida on Friday, September 22nd. Friends and family shared that Boykin was on his final training ride before heading to North Georgia to compete in the Six Gap Century," the governing body said.
"Boykin earned his Master's of Science in Kinesiology from Texas Tech in 2022 and his Bachelor's from Gustavus Adolphus College where he played on the school's football team."
Boykin is the second US Cyclist to lose his life on a training ride this year.

In July 17-year-old Magnus White was struck and killed by a car near his home in Boulder, Colorado. At the time White was putting in his final preparations for August's World Championships in Glasgow, Scotland.
Thank you for reading 20 articles this month* Join now for unlimited access
Enjoy your first month for just £1 / $1 / €1
*Read 5 free articles per month without a subscription
Join now for unlimited access
Try first month for just £1 / $1 / €1