WADA criticises Sky's zero-tolerance approach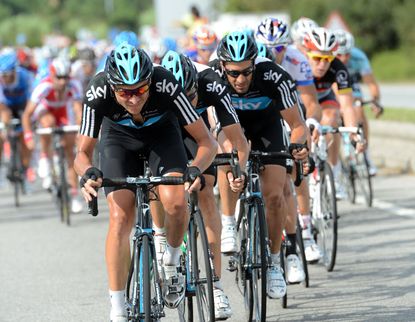 David Howman, CEO of the World Anti-Doping Agency (WADA), criticised team Sky's zero-tolerance approach led to several staff members leaving.
"If it is destroying their lives then you have got to wonder if it is a sound idea, not many are going to fess up if they lose their jobs. Zero tolerance doesn't make much sense in the overall effort to clean up sport," Howman told the Telegraph.
"In general we are concerned we are losing those who knew about the doping and what went on and we want them to feel free to come forward. If they are excluded because of a fear of losing their positions or other draconian processes it will once again lead to the omertà and that's a regrettable loss of opportunity to clean the sport."
Team Sky held a round of individual meetings with riders and staff members starting in October. Race Coach Bobby Julich and Sports Director Steven De Jongh quit and admitted to drug use during their pro careers around 15 years ago. Senior Sports Director Sean Yates, who raced and worked with Lance Armstrong, quit, citing family reasons and health problems.
Tour of Poland to start in Italy
The Tour of Poland will kick off its 70th edition next July nearly 1000 kilometres from home in Trentino, Italy. It will be more than a tourist visit, taking riders to Madonna di Campiglio and the Passo Pordoi.
"This vicinity is not defined by kilometres but by the historical and cultural events that link these two great nations together. Not to mention the friendship and goodwill that have always tied me to Italy, where I spent many years of my life, growing as a cyclist and garnering some of the most brilliant results of my career," said race director, Czeslaw Lang in a press release.
"For the Tour de Pologne it will be an honour to ride on these roads and touch the highest surrounding peaks like the Alpe di Pampeago and Passo Pordoi, where the history of the Giro d'Italia was written."
The eight-day race, July 27 to August 3, will travel on the roads of cycling legend, Francesco Moser. His nephew, Moreno Moser (Liquigas-Cannondale) won this year's race. After the first two stages, the race will transfer 900 kilometres to reach Poland.
Balocco sponsors Giro's pink jersey
The Giro d'Italia's pink leader's jersey will have a new look next May with Balocco taking over sponsorship. Balocco signed a two-year deal on Tuesday for 2013 and 2014.
CEO Alberto Balocco said in a press release, "This sponsorship is a magnificent showcase, not only to generate brand awareness but also to get in touch with the millions of fans who follow the Giro, both in the media and along the roadside."
The company is based in Fossano (Cuneo) near the Alps and the Galibier, where the race is scheduled to visit. Balocco replaces out-going sponsor Esta Thé.
Landis drops hacking appeal
Floyd Landis dropped his appeal in a computer hacking case yesterday. In November last year, a French court issued him a one-year suspended sentence that will now stand.
The American won the 2006 Tour de France, but lost the title days later after failing an anti-doping test for testosterone. In the wake of the scandal, he was charged with hacking the computers of the WADA-accredited laboratory near Paris, in Chatenay-Malabry. He denied the claim, but the court found him and his former trainer, Arnie Barker, guilty of fraudulently receiving the stolen documents and issued the sentence.
As the timeframe passed, Landis' appeal was mostly symbolic.
Cannondale sign three
Top Italian team Cannondale - formerly known as Liquigas-Cannondale - is refining its 2013 squad. Yesterday, it announced three new riders: Canada's David Boily and Guillaume Boivin from SpiderTech, and Dane Brian Vandborg. Vandborg already raced with the team in 2009 and 2010.
Cannondale signed Japanese neo-pro, Nariyuki Masuda two weeks ago.
Vincenzo Nibali, third in the Tour, leaves for Astana along with Valerio Agnoli and Alessandro Vanotti. Peter Sagan, Moreno Moser, Elia Viviani and Ivan Basso will lead Cannondale next season.
Related links
Bradley Wiggins hit by car in Lancashire
UCI details independent review
Cycling Weekly 2012 Reader Poll: Vote now!
Thank you for reading 5 articles this month* Join now for unlimited access
Enjoy your first month for just £1 / $1 / €1
*Read 5 free articles per month without a subscription
Join now for unlimited access
Try first month for just £1 / $1 / €1