Weak pound, too much stock and inflation behind historic UK cycle distributor's collapse
Holding too much stock after pandemic induced spike in demand hit Moore Large, administrator reports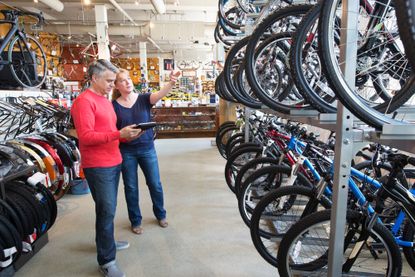 (Image credit: GettyImages)
The weakness of the pound, too much stock and inflation were key to the collapse of long-running UK cycle distributor Moore Large earlier this year, administrators have reported.
The business, which could trace its roots back to 1947, fell into administration in March.
Now an administrator's report, filed at Companies House, has revealed how the company suffered in the financial headwinds of 2022 and was eventually unable to pay its debts.
The report reads: "In line with industry trends, the company suffered significant supply chain disruption followed by reduced consumer demand and inflationary pressures. In addition, the weaker pound had a significant adverse impact as the company predominantly purchased goods in US dollars from suppliers based in the Far East."
The value of the pound has fallen substantially over the last decade. In 2015 it hit its highest value against the dollar since the 2008 financial crash of 1.7. That fell to 1.2 in 2016 following the Brexit vote and while it recovered to between 1.3 and 1.4 in 2021 it fell to 1.07 in late September following then prime minister Liz Truss's disastrous mini-budget.
The currency has since recovered some ground and is trading at around 1.2 to the dollar today.
Moore Large's administrator FRP Advisory said that during the pandemic the company had "continued to place orders with suppliers based on increased volumes and extended lead times" but that despite cancelling some orders "where feasible" became "overstocked" and lacked working capital.
The subsequent funding required built up "creditor arrears".
It detailed how the accountancy firm had reviewed Moore Large's balance sheet in October 2022 but having established that the company's creditors would not be able to address its funding shortfall it was engaged to try and sell the company.
It said FRP looked at either selling the shares of the company, or its business and asset, as well as restructuring options.
It added "The AMA [sale] process was run on a restricted timetable due to the mounting cash flow and creditor pressure… Initially three solvent offers were received, one of which was for the shares of the company but subject to the secured creditors agreeing a significant compromise of their debt.
"The offer was accepted but the party withdrew during the due diligence phase citing concerns over the extent of the forecast funding requirements."
A further search for a pre-pack sale garnered an offer from a company controlled by the company directors but that fell through after "the purchases proposed funders withdrew their offer of funding".
The company then entered administration.
The stock of Moore Large continues to be auctioned off, with some of the most exciting offers appearing in the last week.
Administrators estimated that unsecured creditors, mostly a list of 156 companies that did business with Moore Large, are set to be left £5.5m out of pocket. The company's main lender, HSBC Bank, is set to be left £9.3m out of pocket.
Thank you for reading 10 articles this month* Join now for unlimited access
Enjoy your first month for just £1 / $1 / €1
*Read 5 free articles per month without a subscription
Join now for unlimited access
Try first month for just £1 / $1 / €1
Having trained as a journalist at Cardiff University I spent eight years working as a business journalist covering everything from social care, to construction to the legal profession and riding my bike at the weekends and evenings. When a friend told me Cycling Weekly was looking for a news editor, I didn't give myself much chance of landing the role, but I did and joined the publication in 2016. Since then I've covered Tours de France, World Championships, hour records, spring classics and races in the Middle East. On top of that, since becoming features editor in 2017 I've also been lucky enough to get myself sent to ride my bike for magazine pieces in Portugal and across the UK. They've all been fun but I have an enduring passion for covering the national track championships. It might not be the most glamorous but it's got a real community feeling to it.