Mavic and Weldtite among creditors facing being left out of pocket from UK distributor's collapse
French wheel giant is among list of 156 trade creditors to the business who are estimated to be owed a total of £20m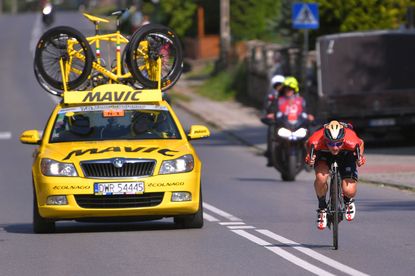 (Image credit: Luc Claessen / Getty)
Wheel giant Mavic and British bike product manufacturer Weldtite are among a list of 156 creditors that could be left up to £20m out of pocket after the collapse of major UK cycle distributor Moore Large.
The long-standing British distributor of bikes and cycling kit collapsed in March leaving many brands to have to sort their own alternative distribution channels in the UK. Lake shoes were among those that had to set up their own operations following the collapse.
In a statement of affairs filed at Companies House, the company directors reported that just £305,000 was expected to be available to pay unsecured creditors owed £5.9m.
In addition there was a deficiency in the amount available to pay unspecified companies with a floating charge on the company (these are most often banks and other financial institutions) of £14.4m.
It said that they assed that there wasn't assets to cover the total of just over £20m of debts.
In a long list of estimates of money owed to 156 unsecured creditors Mavic was listed as being owed £6,951, while Weldtite was reported to be owed £9,717.
A spokesperson for Mavic said: "We are saddened such a historic company has ceased trading. We, at Mavic, wish all the staff all the best in finding new positions." Weldtite did not respond to a request for comment.
The company also owed several different companies that are part of the Suntour componentry business, it said in total the four companies were owed just over £749,000.
Among the other big creditors to the company are Bangkok Cycle Industrial, a Thai manufacture of components, which is owed £430,879; delivery company FedEx Express which was listed as being owed a total of £633,255 spread over two different entries; and JAS Forwarding, a UK freight company, which was owed over £1m.
Auction house John Pye has been running a series of auctions of Moore Large stock in an effort to recover as much money as possible for creditors.
Bikes and other kit have been on sale at huge discounts as part of the recovery effort.
Administrators are due to file a more detailed breakdown of the anticipated realisations from the company's administration at some point next week.
Memorabilia has been on sale too including a signed jersey from Tour de France green jersey winner Peter Sagan and ones from Chris Hoy and other UK track racing stars.
In April last year Moore Large went through a management buyout. Its board of directors Dale Vanderplank, Adam Garner, Adam Biggs and Andrew Walker, acquired the business from the Moore family, who had established it in 1947.
Thank you for reading 20 articles this month* Join now for unlimited access
Enjoy your first month for just £1 / $1 / €1
*Read 5 free articles per month without a subscription
Join now for unlimited access
Try first month for just £1 / $1 / €1