Where it all started — Sepp Kuss' Vuelta win means everything to his hometown of Durango, Colorado
Cartoon stickers on mailboxes, posters in bike shops and locals in supporter t-shirts — Durango celebrates its hometown hero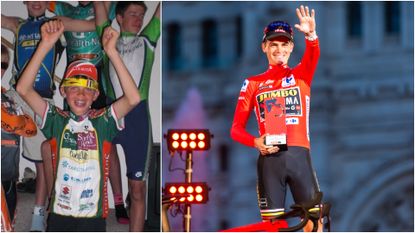 (Image credit: Chad Cheeney/Getty Images)
Five thousand two hundred miles away from Madrid, Spain, where Team Jumbo-Visma won its third Grand Tour victory of the season, the town of Durango is ecstatic. Its hometown hero, Sepp Kuss, finally got his shot and made it count, winning the Vuelta a España ahead of his team leaders, Jonas Vingegaard and Primož Roglič.
The win was historic for U.S. cycling as Kuss brought home the first Grand Tour win for an American since Chris Horner did so at the same race back in 2013. And while Kuss' achievement is felt and talked about across the nation, it's nowhere as visible and as celebrated as it is in the small Colorado town of Durango.

Home to a host of former Olympians, the town boasts an impressive list of athletic achievements of its past and present residents, who contested in all sorts of mountain sports. It even has an entire month dedicated to the celebration of all things cycling — Spoketober— and this on-the-bike victory of their own, born-and-raised star, is sure to be featured heavily. Already, Sepp Kuss stickers adorn mailboxes and street signs, posters are up in bike shops around town and plenty of locals can be seen wearing supporter t-shirts.
Devo Kid
Kuss got his bike racing start with the Durango Devo program, a mountain bike team started by Chad Cheeney and Sarah Tescher, that has also produced the likes of 2021 short track world champion, Christopher Blevins, and multi-time national xc champion, Howard Grotts.
With a motto of Never Forget The Fun (NFTF), the program is renowned for instilling a deep love of riding, with racing and competition often taking a backseat.
"I have known Sepp since he was a sixth grader; that's when he was with Devo. He started with our middle school program, and he did it till he was 17 or 18," says Cheeney, talking to Cycling Weekly in his Fort Lewis office, where he keeps some signed Sepp Kuss rider cards and memorabilia from his Gateway Harley Davidson days. Cheeney's love of the sport is on display here and it's this same love that gets ingrained in his Devo riders.
Kuss just loved to be on a bike and seemed as interested in getting out and exploring as he was in racing, recalls Cheeney. But he was also a keen competitor.
"He was a big explorer. On the off days, he wouldn't go play with friends in high school. He would be up in the mountains trying new routes."
Asked if he ever expected this kind of success from Kuss, Cheeney says he'd had an inkling he'd do well.
"There was a race in Fruita, and there were some pretty fast guys there like [Ben] Sonntag, and Sepp came around in the first lap in the lead, and we were all like, 'Wow, Sepp is that fast'," recalls Cheeney. "He could climb well, but that Mountain States Cup wasn't a climbing race and Sepp just demolished everyone."
These day, Kuss lives in Andorra year-round and doesn't visit Durango very often anymore, yet the hometown support has only grown over the years along with his success in the European peloton. The locals feel great pride in the achievements of their "Eagle of Durango".
"Everyone says it takes a village, and I have been getting interviewed and getting talked to a bit more than my contemporaries. I was there for it, but really, it was a huge support crew with parents who supported Devo and Sarah Tescher, who made everything work," says Cheeney. "But it is a special feeling for sure."
Thank you for reading 20 articles this month* Join now for unlimited access
Enjoy your first month for just £1 / $1 / €1
*Read 5 free articles per month without a subscription
Join now for unlimited access
Try first month for just £1 / $1 / €1