Women's Newport Nocturne under threat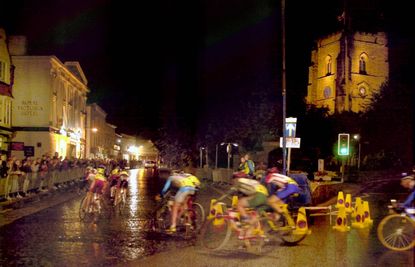 Organisers of the Newport Nocturne are calling for more entries for the women's event to ensure that it can take place.
With two weeks to go until the closing date, entries for the men's event at the Nocturne reportedly outnumber the women's entries by five to one, jeopardising the running of the women's race.
"Now that Lizzie Armitstead has won an Olympic medal, it's the perfect time to showcase the talent we have in the UK," said organiser Nick Jeggo, who added the women's event for 2012 at the expense of the ex-pro event.
"We are delighted to have a main sponsor and a points race sponsor who specifically want to back the women's race. There's plenty of 'buzz' about the event on Facebook and Twitter, but at present, it just isn't being converted into entries," Jeggo added.
The biannual Newport Nocturne is the one of the oldest floodlit night-time events on the British calendar and has seen the likes of Mark Cavendish, David Millar and Geraint Thomas compete in recent editions.
The 2012 races are scheduled to take place in Newport, Shropshire on September 1 after organisers were able to to secure last minute sponsorship and support in July.
Entries for both races can be made online via the British Cycling website.
Related links
Armitstead wins silver in Olympic road race
Thank you for reading 10 articles this month* Join now for unlimited access
Enjoy your first month for just £1 / $1 / €1
*Read 5 free articles per month without a subscription
Join now for unlimited access
Try first month for just £1 / $1 / €1
Richard Abraham is an award-winning writer, based in New Zealand. He has reported from major sporting events including the Tour de France and Olympic Games, and is also a part-time travel guide who has delivered luxury cycle tours and events across Europe. In 2019 he was awarded Writer of the Year at the PPA Awards.