Zanardi's personal triumph at Brands Hatch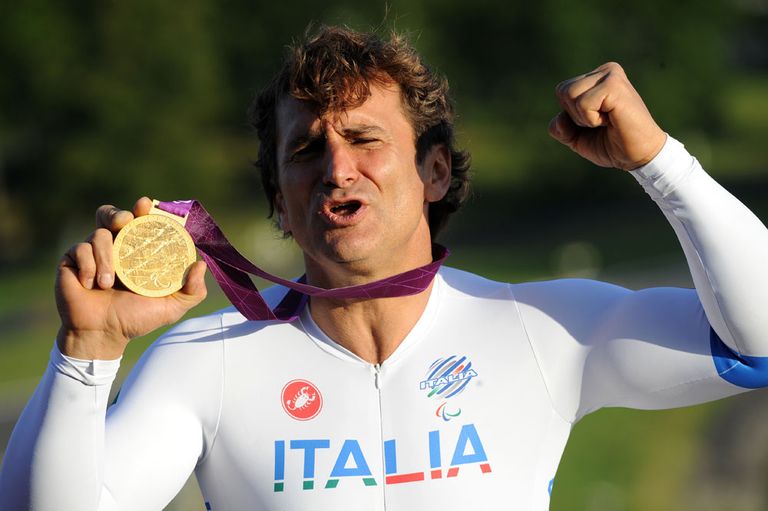 Nearly 11 years ago to the day, Italian driver Alex Zanardi was involved in an horrific accident during a CART race at the Lausitzring in Germany.
Zanardi spun when exiting the pit lane, straight into the path of an oncoming vehicle travelling at approximately 200mph. The collision was horrific, severing both of Zanardi's legs on impact. In the aftermath he lost around three-quarters of his blood. Only quick medical intervention and emergency surgery saved his life, albeit one that was changed forever.
The driver was a former champion in the series. He had also raced in Formula One as recently as 1999. But arguably his biggest triumph came yesterday. At Brands Hatch of all places, a motor-racing circuit on which he had never won with a car. Reminiscent of a qualifying session, Zanardi raced to the Paralympic time trial gold in the H4 category, after setting an early benchmark too quick for everyone else.
Surrounded by journalists all wishing to hear the latest chapter of his story, Zanardi was warm, friendly and also self-effacing. "It's an amazing feeling. I'm really happy with the result, and a little sad," he started. "I knew this moment would bring a little sadness as well because I would lie to you if I say I'm happier today than I was two years ago when I decided on an horizon which was to try to qualify for the Games. I guess when you choose the right horizon in your life and you start to be pushed by your passion, every day is a great opportunity to meet happiness, to add something to what you want to do in your life."
"To win [at Brands Hatch] I had to come back with a hand cycle.."
Zanardi isn't one for convention. Racing drivers cannot afford to be. In a sport where two tenths of a second is the difference between success and failure, sometimes you have to be bold with strategy and set-up. That did not change after his accident. He designed his own prosthetic legs because he felt limited by those on the market. He finished fourth in the 2007 New York City Marathon after just a month of training with his hand cycle. Last year, on his fourth attempt, he won the race.
London beckoned. He came, and he conquered.
"I didn't have to convince myself that I'd done everything I could to prepare myself to the best," he continued. "I knew.
"Of course I was a little bit emotional, because the prize is very high. This isn't a race around the village. Once I start to see my opponents arriving and my name was still on top, I started to have butterflies in my stomach."
Upon the news of his victory, Zanardi lowered himself onto the pit lane, and held his hand cycle aloft. It will become one of the images of the London 2012, not just the Paralympics, and will no doubt inspire many others in a similar position. Not that he believes he is any more significant than his opponents, other athletes competing in London, or even the general public.
"I don't feel like an inspiration. I'm a good reference point for people living with special problems, because in the beginning of my recovery, it was great hearing people say 'I can do this, I can do that'.
"A mother who feeds her kids in the morning and goes to work even if she is sick, she can be an inspiration to us all. I'm certainly very well advertised, and even if I don't want to appear on television with the silly things I do. I'm not any better than any of my mates, or my great opponents who are racing at this circuit," he stated.
Now in is sight of his 46th birthday, Zanardi doesn't see him competing in hand-cycling events after these Games.
"Come Monday, I have no doubt that I will find something new because if I have one talent, it's certainly my curiosity. I will have to find something different otherwise my life will become boring. I will give my wife a good week to relax, to go shopping and do the women things and then back to business," he joked.
"I have no ambition. If a good opportunity will arise in the near future, it may become an ambition. I'm very lucky, I can sooner leave and carry on with a great life, even picking up a fishing rod and going out with my son. But if something very special comes why should I turn it down?"
Latest news
Cundy gategate: The reaction
Comment: The commissaire's revenge?
Cundy goes for patriotic look on new racing leg for London
London 2012 Paralympics cycling event schedule
GB team named for London Paralympics
Reports
Road day one: Another gold for Storey in time trial
Track day four: Tandem sprint gold for Kappes and MacLean
Track day three: Sarah and Barney Storey lead the headlines in the velodrome
Track day two: Colbourne takes gold, Cundy is disqualified in day of mixed fortunes for GB
Track day one: Storey takes gold
Photos
Track day three (afternoon) by Andy Jones
Track day three (morning) by Andy Jones
Track day two (afternoon) by Andy Jones
Track day two (morning) by Andy Jones
Track day one (afternoon) by Andy Jones
Track day one (morning) by Andy Jones
Schedule of events
London 2012 Paralympics cycling event schedule
Related links
London 2012 Olympic Games coverage index