A love letter to my frame pump
The Topeak Masterblaster is engineering feat of simplicity that will be forever strapped to my frame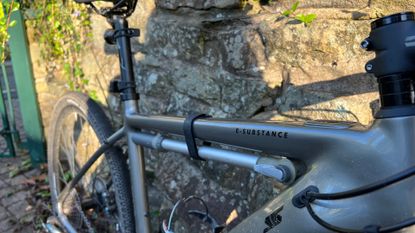 (Image credit: Hannah Bussey)
This article is part of a series called 'A love letter to…', where Cycling Weekly writers pour praise on their favourite cycling items and share the personal connection they have with them.
The below content is unfiltered, authentic and has not been paid for.
When my colleague Tom Davidson wrote prose on his enduring love of Rapha cargo bib shorts, two things struck me; that my love for my 24-year-old drab grey Topeak Masterblaster frame pump ran just as deep, and clearly we had attended very different schools.
Like Tom, I too have never sent a love letter, but I had also never had the virtues of Shakespearean quotes instilled in me at my school. I can, however, argue that the language of love can take on many guises, and for me, growing up, true love could be found in initials encased in a heart written on the back of a toilet door, or, as I grew older realised it can come in the form of gift of a bicycle frame pump.
If a bicycle pump may not seem like the most romantic of keepsakes, you are very much mistaken. More than poetry, bunches of roses or chocolates, the thing I truly, madly and deeply would love over the years would be the ability to inflate a flat tyre to more than 20psi after a mid-ride flat.
I can't pretend that my frame pump relationship has always ridden a smooth course. The non-horizontal top tube period of super compact frames was rough on us, I struggled to choose between the pump or carrying a water bottle, as there, literally, wasn't room for both in my life.
The lure of shiny anodized aluminium of a Leyzne CO2 pump caught my eye at one stage. But I soon came to realise that CO2 canisters are the badboy of cycling waste. That, and my whole race team once had our stash confiscated at airport security, requiring us to humbly ride with semi-inflated tyres to the nearest Max Huerzeler, and beg the sour-faced mechanics for a go of their airline, before being fleeced for replacement canisters.
Then there was the carbon mini-pump phase… I thought this was the answer. It wouldn't create waste, be confiscated and looked sleek, matching my performance cyclist aesthetics. But no matter how aero your mini pump is, it'll shave no time off your tyre inflating PB, and leave you with RSI trying to get anywhere near enough tyre pressure to ride on.
So it is with a tender heart that I returned to my frame pump. I now even secure it in place with a small Velcro strap to ensure our bond doesn't break. Never again will I take form over function.
Yes, you may mock my choice of love, but oh how you too will adore my ol' faithful when I stumble upon you punctured in a remote lane, miles from civilisation, and I assist you, returning your flat tyre to riding pressure in just handful of strokes, without so much as a bent valve core.
Thank you for reading 20 articles this month* Join now for unlimited access
Enjoy your first month for just £1 / $1 / €1
*Read 5 free articles per month without a subscription
Join now for unlimited access
Try first month for just £1 / $1 / €1