A love letter to my Rapha cargo bib shorts
I started cosplaying as Lachlan Morton, and fell in love with my shorts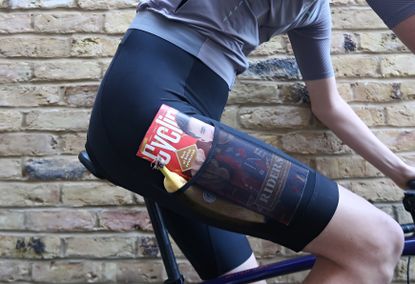 (Image credit: Future)
This article is part of a new series called 'A love letter to…', where Cycling Weekly writers pour praise on their favourite cycling items and share the personal connection they have with them.
The below content is unfiltered, authentic and has not been paid for.
Shall I compare thee to a pair of cargo bibs? This, I imagine, is how William Shakespeare would have opened his famous love sonnet, had he lived in the era of Rapha couture.
Shakespeare, of course, died in 1616, almost 400 years before the clothing brand was founded. So please allow me to pick up the mantle with my own outpouring.
My pair of Rapha core cargo bib shorts, without doubt, are my favourite item of clothing that I own, both in my cycling wardrobe, and my normal wardrobe. I feel so strongly, in fact, that I have decided to pen a love letter to them.
I have never written a love letter before. I've been with my girlfriend for nearly three years and she has never received one - not one written by me, anyway. I'll admit, it seems strange to break the habit for a pair of padded cycling shorts, but here I am, and something feels right.
Our relationship (that's me and the shorts) started around three years ago, when we were introduced by a man called Lachlan Morton.
The year before, Morton had begun shedding his skin as a professional road cyclist, and begun moving towards a life of gravel trails and endurance challenges. It was inspiring. His team, EF Education-EasyPost, shared tightly cut videos of his feats, from racing Unbound Gravel to winning the GBDuro. I watched on religiously.
Morton was the loveable nomad cycling fans needed. He turned his nose up at the strict regime of the WorldTour, and instead rode around with a bivvy bag, playing music through his headphones and wearing a pair of Rapha cargo bib shorts, the pockets stuffed with food.
He wanted to be free. I wanted to be him. Sadly, I didn't have the same resolve to ride 10 hours through the night, but for £125, I could buy the costume and pretend. So I went to the Rapha store and picked up the cargo bibs.
"Ah, these are very popular," I remember the shop assistant saying as I lay them gently on the till. "Have you seen the videos of Lachlan, too?"
No, I replied, lying shamelessly through my teeth. God forbid I reveal my infatuation. I figured if I was going to cosplay an Australian ultra cyclist, nobody was going to know about it.
I left the store ready for a new life, my news shorts neatly folded in a cardboard bag. They have never let me down since.
My cargo bibs have become my go-to shorts. I pair them with an aero jersey when I want to go fast, malt loaf strapped to one thigh, an easy peeler to the other.
Other times, I'll wear a Hawaiian shirt on top and ride my single-speed around the city. For a moment, I feel like I'm the cool guy who does track stands at traffic lights, even though I can't track stand, and I'm decked in pineapple print.
I know I am not alone when I say I have a favourite pair of shorts. If you're not sure which ones are yours, here's how you can tell: It's the pair you long for when they're in the wash, the pair you pull over your shoulders and ping proudly against your torso. Sometimes you might even keep them on for a few hours after your ride, wallowing in the sweat, secure in the chamois's warm embrace.
There's a tingly feeling when you wear them. You think it's the saddle sores playing up, but it isn't, dear reader. It's love, and you mustn't fight back.
That's how I feel about my cargo bib shorts, at least.
And so I return to Shakespeare's verse. "Shall I compare thee to a summer's day?" the playwright wrote. You could, William. But the metaphor might be more powerful if you fathomed it with a pair of bib shorts. Namely my Rapha ones, which are more radiant than any summer's day could be.
Thank you for reading 20 articles this month* Join now for unlimited access
Enjoy your first month for just £1 / $1 / €1
*Read 5 free articles per month without a subscription
Join now for unlimited access
Try first month for just £1 / $1 / €1