Crazy super-aero handlebars make a splash in breakaway at the Belgium Tour
The Speeco bars were spotted on the road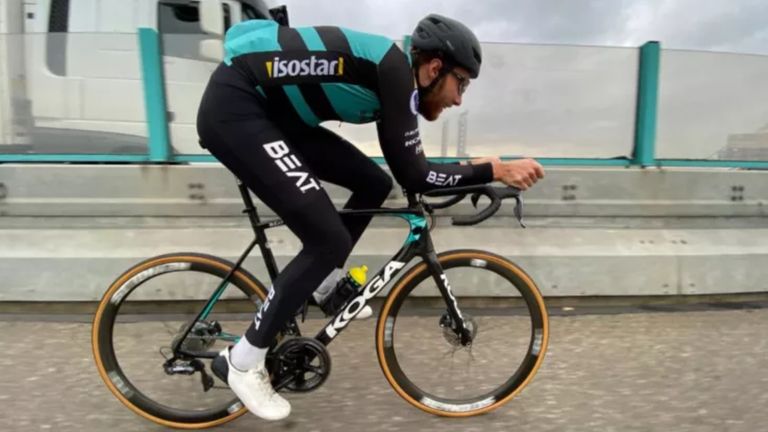 (Image credit: Speeco)
This article was updated at 18:55 GMT on June 11 to reflect the fact that the Specco ABB is not UCI legal
Dutch carbon specialists, Speeco, raised a few eyebrows when they developed the bizarre looking Aero Breakaway Handlebar last year.
The ABB (Aero Breakaway Bar) has been seen at the Belgium Tour under the stewardship of Jan-Willem van Schip (BEAT Cycling).
Whilst initially we believed these bars were UCI legal, Cycling Weekly received a call from UCI innovations manager, Mick Rogers, confirming that they are not - as they are in breach of the rule 1.3.008 - "the only points of support are the following: the feet on the pedals, the hands on the handlebars and the seat on the saddle."
These handlebars utilise the forearms - so are UCI legal for time trials, but not bunch races.
These unconventional handlebars are designed to provide more forearm support when riding in the 'aero-hoods' position, with the elbows bent at 90°. This position has been widely shown to be one of the most aerodynamically efficient, although on a set of conventional handlebars it is quite tough to sustain for long periods.
Although the bars might look very long, the hoods end up in pretty much the same position as with a set of conventional bars – the long forearm supports merely make up for the short stem, which is a stubby 70mm.
Although the reach to the hoods might be about the same as on any other bike, the distance between them is much narrower. Whereas most road handlebars are 42 or 40cm wide, these measure just 32cm wide up top. There is some flare out to the drops to assist the handling, but these are still only 37cm wide.
For more information about these crazy bars, you can check out our story on them here. Be warned, if you do fancy a set, they'll set you back a cool €1,500.
Thank you for reading 5 articles this month* Join now for unlimited access
Enjoy your first month for just £1 / $1 / €1
*Read 5 free articles per month without a subscription
Join now for unlimited access
Try first month for just £1 / $1 / €1
Starting off riding mountain bikes on the South Downs way, he soon made the switch the road cycling. Now, he's come full circle and is back out on the trails, although the flat bars have been swapped for the curly ones of a gravel bike.
Always looking for the next challenge, he's Everested in under 12 hours and ridden the South Downs Double in sub 20. Although dabbling in racing off-road, on-road and virtually, to date his only significant achievement has been winning the National Single-Speed Cross-Country Mountain Bike Championships in 2019.
Height: 177cm
Weight: 67–69kg