Eight features on the Cannondale Topstone range that make it great for gravel adventures
This category defying bike has all the clearance, suspension and mounts to adventure in style and comfort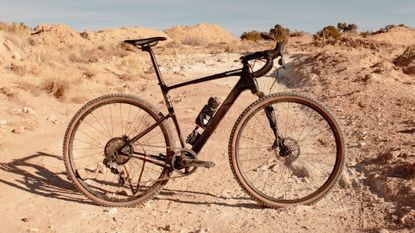 (Image credit: Cannondale)
Cannondale's Topstone is a category defying gravel bike. Stocked with features and a vast model range that includes everything from a carbon electric bike down to an affordable alloy build, the Cannondale Topstone is adventure-ready at any budget.
Here are 8 unique features of the Cannondale Topstone line.
1. Rear suspension
The KingPin rear suspension on all carbon models sets the Topstone apart with a category challenging design. The 2022 models are sleeker than ever with an integrated pivot within the frame, soaking up bumps and allowing the rider to push the boundaries of what a gravel bike can do. Rugged back roads and moderate singletrack are well within reach on this cushy ride. The latest update also shaves off 100 grams, and no one ever complains about weight savings.
2. Clearance
Clearance for bigger tires —up to 700 x 45 or 650 x 2.1— is one of the most exciting and much asked-for updates to the 2022 Topstone. Paired with the compliant suspension design and proper tire pressure, this revision enables more challenging route choice, bigger adventures or even taking that singletrack detour on the commute home. This clearance really encourages the rider to push that limit of what was already a capable frame design, helping to enliven the new Topstone motto, "Nothing is Impassable".
3. A 30mm suspension fork
The Lefty Oliver has always been a gamechanger to the gravel world, not to mention eye-catching. Now allowing 700c wheels, this 30mm suspension fork takes the harshness out of the roughest roads, while remaining stiff and efficient for pushing hard and riding fast. Find out where that trail goes knowing you have the added comfort for some surprises.
4. Build options galore
The wide range of build specs allows for nearly any pricepoing to be met, but each bike is still completed with adventure in mind. From SRAM's AXS electronic shifting at the high end to microSHIFT for the budget conscious, the gearing on all builds features a wide range to get you up that loose questionable climb. Carbon forks with mounts are featured on most builds that do not opt for a Lefty. Add to this a threaded bottom bracket, simple external seat clamp, traditional wheel dish, and you have a roster of smartly built bikes that will also be easy to service, and customize or upgrade parts for whatever your riding style.
5. Mounts!
Heading into the unknown means you tend to bring a bit more and the Topstone models have multiple mount points to help distribute the load. Alloy frames can have up to four mounts and Carbon models have upwards of six for those that opt for a rigid fork. The StrapRack tool carrier is built into the carbon frames to keep the essentials handy without roughing up the paint. Strap on your bottles and bags as bikepacking adventures await!
6. Proportional sizing
Proportional Response Construction on all of the carbon frames means that riders of all sizes experience the same improved ride quality. Variations in the carbon layup and tube sizing across XS to XL make it so that all riders from 4'11 up to 6'8 get comfortable suspension, improved traction, and fast power response. The lowered bottom bracket gives a feel of riding in the frame. This paired with OutFront steering, even more so on models with the Lefty, delivers confidence especially on technical or steep descents.
7. SmartSense
Cannondale's SmartSense system is a clever and feature rich addition to several models, debuting on the recent Synapse launch. All new carbon models are SmartSenseReady and several come standard with the radar and lighting system that adds an extra layer of safety and security for those spending time on the roads or pushing the edge of daylight.
8. Bosch-powered e-bike
If you're looking to go farther than your legs have taken you on their own, the Topstone Neo is the electric version powered with a Bosch drive unit. The Neo e-bike models - which vary slightly in spec when compared with the Topstone Carbon, utilisting different tyre clearance - have a range of build kits and battery ranges, but managing battery life and distance to make sure you can still get home is easy through the integrated wheel sensor and Cannondale app. This sensor is found across all models enabling maintenance reminders and route tracking so you can set new milestones.
If you're looking for a bike that is versatile, has a range of options on price and features, and offers an open invitation to ride anywhere and everywhere, the Cannondale Topstone has a model that will take you wherever the trail may lead.
Danielle studied Journalism at Northeastern University in Boston, MA where she began commuting around the city and exploring historic areas by bike. With over 15 years in the cycling industry, she's seen and ridden her share of technologies and trends, but believes that it's probably a good thing if it gets someone out riding. She has pinned a number on for a couple of cyclocross races, and a handful of endurance events, but her favorite rides include adventures in questionable terrain and a stop for snacks.