Lazer releases gravel-specific helmet, Cerro KinetiCore, for mixed-terrain protection
A sun visor, bump-proof eyewear docking slots and KinetiCore protection headline the feature-rich entry level helmet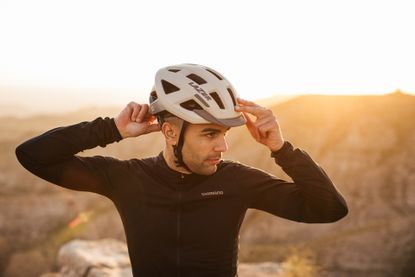 (Image credit: Lazer)
Do you need a gravel-specific helmet? With the massive growth of gravel racing in recent years everything from bikes and tires to saddles, shoes and clothing have been made gravel-specific, however helmets seem to have mostly escaped this new evolution in cycling equipment.
Most people just use a road helmet for gravel riding but they aren't always the best suited for the rough and tumble that can come with gravel. A mountain bike helmet is another option but can sometimes be overkill and heavy. Enter the Lazer Cerro KinetiCore, a lid that's meant to combine the best of both worlds.
Belgian helmet manufacturer Lazer says that the Cerro KinetiCore is a helmet meant to feel equally at home on fast tarmac, rough gravel and dirt. It combines the light weight and airiness of Lazer's road line with off-road features and KinetiCore safety.
The Cerro features bump-proof sunglasses slots to keep your shades secure even on rough gravel roads. A small visor keep the sun's glare off your face and an integrated bug helps protect riders from insects, road spray or anything else you might find on a gravel adventure.
The brand's proprietary KinetiCore tech is a built-in protection system designed to provide protection for both direct and rotational impacts, and utilizes controlled crumple zones to absorb impacts and keep your head safe in the event of a crash or impact. Backed by a Virginia Tech 5-star rating, the KinetiCore has tested very well in other helmets and should perform equally well in the Cerro. Straps with a magnetic buckle helps keep a secure fit.
The Cerro KinetiCore may be an entry level helmet but at only 270 grams it certainly won't feel like one. For comparison, the Cerro KinetiCore weigh just 35 grams more than Lazer's top of the line road racing helmet, the G1. The Cerro is also priced very well at just $99.99 USD or €99.99 making it a very accessible option.
The Cerro will come in three sizes S/M/L and six different colorways will be offered to suit anyone's riding style.
Learn more at www.lazersport.com.
Thank you for reading 20 articles this month* Join now for unlimited access
Enjoy your first month for just £1 / $1 / €1
*Read 5 free articles per month without a subscription
Join now for unlimited access
Try first month for just £1 / $1 / €1