Ere Research unveils its new range of road and gravel saddles
Launching at EuroBike, the saddles feature innovative new technology designed to improve comfort and performance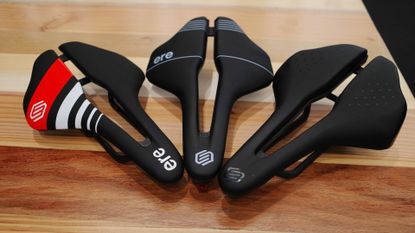 (Image credit: Rob Spedding)
Ere Research has launched a new range of saddles, with models for each of its product families - Genus, Omnia, Tenaci and Explorator - showcased at EuroBike.
"We're thrilled to showcase our new saddle line at Eurobike 2023," said Carola Noordermeer, Head of Marketing at Ere Research. " With our commitment to innovation and design, these saddles are crafted to meet the demands of riders at every level."
In the pursuit of improved comfort, performance and durability Ere Research founder Piet van der Velde and his team have added two new pieces of technology to its saddles: the Comfort Trigger and the Dynamic Torsion Bar.
The Comfort Trigger is a system that Ere Research says "allows riders to adjust the flexibility of the saddle while they are riding." Depending on the terrain or length of ride, the Comfort Trigger can be adapted to the riders preference using three adjustment positions that deliver 10Nm difference. The trigger is located on the underside of the saddle's nose.
In part to accommodate the demands of the Comfort Trigger's adjustments, the Dynamic Torsion Bar "provides enhanced strength and stability to the overall saddle structure." It does this via an additional bar that connects the left and right sides of the saddle rail, which mitigates stress and load.
The Genus Pro line features five saddles designed for racing, with the saddles coming in three widths: 133, 145 and 157mm. The entry level model is the only one without the Comfort Trigger and weighs 210 grams. At the other end of the scale is the Genus Pro CC, which features both the Comfort Trigger and the Dynamic Torsion Bar. Equipped with carbon rails it weighs just 125 grams.
The Omnia range of saddles, designed for endurance riding, comprises four models, each with the Comfort Trigger technology. Like the Genus saddles, they are offered in three widths. The top of line Omnia CC also includes the Dynamic Torsion Bar and carbon rails and base.
Gravel racers and riders are catered for by the Tenaci line up. It features four variants that include the Comfort Trigger, with three featuring side protection while the top tier CC model gets the Torsion Bar tech. The 240mm long saddle is offered in two widths - 145 and 157mm.
Ere Research's Explorator products are aimed at the everyday cyclist. The new Explorator saddles are offered in two models - one with the Power Trigger, one without.
All of the new saddles are listed as unisex. Ere Research says its ongoing study in conjunction with the University of Stanford shows that "no person is the same in terms of saddle needs, and how they are built in terms of sex, posture, flexibility and soft tissue shape. It is about the right shape and fit."
Thank you for reading 20 articles this month* Join now for unlimited access
Enjoy your first month for just £1 / $1 / €1
*Read 5 free articles per month without a subscription
Join now for unlimited access
Try first month for just £1 / $1 / €1