Fulcrum's new Speed wheelsets are 'wider, lighter and more aero'
The Speed 42 and 57 wheels are 2mm deeper than outgoing models and are designed around 28mm width tires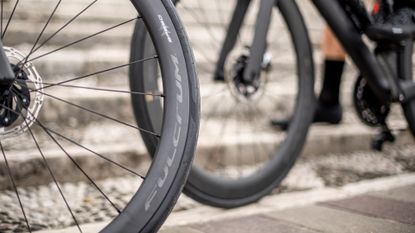 (Image credit: Fulcrum )
Fulcrum has updated its carbon Speed wheelsets, promising "higher, wider, lighter, more aerodynamic rims" alongside revamped hubs and spokes.
Engineered in Italy and disc brake only, the Speed 42 wheelset now weighs a claimed 1,410g, while the Speed 57 weighs a reported 1,495g.
As you might guess, the 42 and 57 applies to the wheel rim depth, and is an increase of two millimetres from the previous versions.
The inner rim width has also increased from 19mm to 23mm, which Fulcrum says when paired with a 28mm tire creates "a level of performance without compromises, with optimum aerodynamic penetration, rolling resistance and comfort".
It's a shift that's echoed across the industry, as rims optimised around wider tires for the road moves from 'trend' to 'standard issue', and are now commonplace on many of the best road bike wheels.
With regards to the Speed wheels Fulcrum claim the new width rim provides a 10% improvement in aerodynamic advantage when measured in a tunnel against a head wind.
Fulcrum has opted to design the inner rim without any spoke holes, which allows for a tubeless fit without the need for any tubeless rim tape. While some rival brands, such as Zipp, are committed to hookless rim technology, Fulcrum has kept the Speed's hooked profile intact, essentially increasing its versatility with regards fitting the best road bike tyres.
The lack of holes in the rim channel also allows it to maintain stiffness along the whole perimeter as well as improve resistance against impacts. Fulcrum says this is aided by the nipple holes, which are "created in the mold", rather than drilled, which typically weakens the structure of the rim.
As for the rim construction, it uses a new composite mix of FF100 high modulus unidirectional fibres, that Fulcrum says is derived from "numerous experiments" to deliver a greatly improved ride feel. The Speed wheels use a patented Directional Rim-Spoke Coupling system, which sinks plastic supports into the carbon, with the aim of improving stiffness and durability.

The in-house hubs have undergone a significant redesign. The flanges are now 40% smaller, while the central body is reduced in size by 10% in pursuit of "greater resistance with lower aerodynamic drag", while still retaining torsional stiffness.
Other noteworthy details include an aircraft grade aluminum axle, a new 36t ratchet system and a cup and cone bearing system, featuring ceramic bearings, that should please home mechanics with its greater level of serviceability. The new hub supports all road bike groupsets, so available Shimano HG, SRAM XDR and Campagnolo N3W freewheel bodies.
Both the Speed 42 and 57 use 24 aero spokes laced with the 'Two-to-One' system, that doubles the spokes in the areas that are subjected to greater stress. This translates to a front wheel with 16 spokes on the disc side and 8 on the other side, while the rear wheel is built in an opposite fashion to "contrast the torsional force." Fulcrum says this lacing pattern, alongside "perfect tensioning of the spoke", leads to a stiff wheel that delivers "the maximum transfer of power".
The Speed 42 and Speed 57 wheelsets retail at: $2.692 / £1,999 (HG11), $2, 703 / £1,999(XDR) and $2.698 / £1,999 (N3W).
For more information visit fulcrumwheels.com
Thank you for reading 10 articles this month* Join now for unlimited access
Enjoy your first month for just £1 / $1 / €1
*Read 5 free articles per month without a subscription
Join now for unlimited access
Try first month for just £1 / $1 / €1
Luke Friend has worked as a writer, editor and copywriter for twenty five years. Across books, magazines and websites, he's covered a broad range of topics for a range of clients including Major League Baseball, the National Trust and the NHS. He has an MA in Professional Writing from Falmouth University and is a qualified bicycle mechanic. He has been a cycling enthusiast from an early age, partly due to watching the Tour de France on TV. He's a keen follower of bike racing to this day as well as a regular road and gravel rider.