Scott says new Plasma TT bike is 'the fastest it's ever made' and it's no longer just for triathletes
The new Plasma RC, ridden by Team DSM, features enhanced aerodynamics and improved levels of adjustability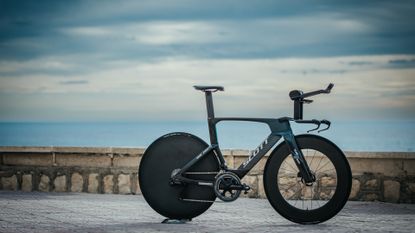 (Image credit: Scott)
Scott has redesigned its iconic Plasma time trial (TT) bike, creating the new Plasma RC TT.
To do so the brand says it "went back to the drawing board with a simple goal: build the fastest bike we've ever made". If Scott's claims are true it's been a success - it says the Plasma RC is 12% lighter than its predecessor - the Scott Plasma 6, while being 33 seconds faster over a 40km TT course when ridden at the same power output.
The bike has been designed in conjunction with Scott's WorldTour partner Team DSM as well as its other professional teams and riders, who together listed a number of requirements including lower drag, more stability, increased adjustability, ultimate integration and disc brakes - consistent themes amongst the best time trail bikes.
That marks a change from the previous model which wasn't designed to be UCI compliant and was therefore aimed squarely at the triathlon market.
Reducing drag means improving aerodynamics and Scott used computer modeling with Computational Fluid Dynamics (CFD) to help identify new tube designs. These were then trialled in the wind tunnel, allowing them to measure the real-world impact of each option.
Alongside aero experts Drag2Zero, Scott began to select tubes and junctions based on the insights, enabling them to benchmark each design against previous iteration of the Plasma as well as its competitors' TT bikes.
Scott also focused on improved integration to help reduce drag. The new Plasma RC boasts a patented design for a slotted headset that has two main benefits. It allows the cables to run directly through the headset, which achieves a narrower head tube, which "eliminates the need for the clearance of the cable going around the steerer". It also makes the fork and cockpit easy to take apart - handy if you're travelling with the bike.
As for the Syncros Creston iC cockpit, Scott says it's created to allow riders of different shapes and sizes achieve their optimum aerodynamic position, thus reducing drag. Scott also says it helps the rider to find "a physiologically efficient position to transmit maximum power and still breathe well" - both crucial elements to putting in a good time.
The cockpit, heralded by Scott as "the most adjustable integrated TT cockpit on the market", offers a basebar in three different sizes - 85mm, 105mm and 125mm - alongside bags of adjustability. The height of the mast can be moved from 0mm to 145mm based on a rider's pelvic and hip flexibility, while the vertical angle of adjustment of the extensions can be adjusted between 0 and 15 degrees and the length adjusted from 0-30mm depending on arm length and posture. Elsewhere the grip angle can also be adjusted between 13-53 degrees for an optimized hand position, while the arm pads are also adjustable.
To create a more stable ride, Scott reduced the fork offset, which increased the trail by 5.2mm over the previous model. Trail is the horizontal distance between the steering axis and the contact patch of the front tire.
While Scott says the change in the fork offset didn't deliver demonstrable results in the wind tunnel, the team's desire for greater stability is driven by the knowledge that a stable bike promotes a steadier rider position, which ultimately makes for faster times.
Tire clearance on the Plasma RC TT is 30mm front and rear.
Scott says the fruits of its labour is a bike that has exceeded its performance objectives. Team DSM Roman Bardet agrees.
"Right from the get-go you can sense that the Plasma RC TT is optimized for riders to give their best during time trials," says the French GC rider. "It is not just the stiffness, riding stability, and aerodynamics of the frame that is great, but most definitely also the adjustability of the new cockpit: Due to the improved ergonomics that come with it, it makes a real difference, as it supports you to stay in the most aerodynamic position over time."
The Plasma RC TT is available as a frameset, retailing at 7,999 euros. It's offered in three sizes, S,M and L and includes the Syncros Creston iC TT cockpit and Syncros Duncan SL Aero seatpost.
For more information visit scott-sports.com
Thank you for reading 10 articles this month* Join now for unlimited access
Enjoy your first month for just £1 / $1 / €1
*Read 5 free articles per month without a subscription
Join now for unlimited access
Try first month for just £1 / $1 / €1
Luke Friend has worked as a writer, editor and copywriter for twenty five years. Across books, magazines and websites, he's covered a broad range of topics for a range of clients including Major League Baseball, the National Trust and the NHS. He has an MA in Professional Writing from Falmouth University and is a qualified bicycle mechanic. He has been a cycling enthusiast from an early age, partly due to watching the Tour de France on TV. He's a keen follower of bike racing to this day as well as a regular road and gravel rider.