What bike and equipment does a rider need to complete the Tour de France route in 10 days?
We take a look at the Specialized Roubaix ridden by the ultra cyclist Jack Thompson who is aiming to catch - and pass - the peloton in 10 days for The Amazing Chase, supported by Wahoo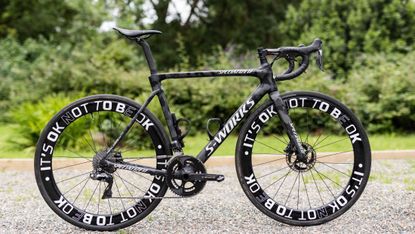 (Image credit: Tristan Cardew / https://www.instagram.com/tristantakephoto/)
Most people will have seen one of those memes that show a straight line between a starting point and a life goal, labeled 'the plan', with a wiggly line that dips and weaves and occasionally u-turns towards the goal labeled 'reality. It's cheesy, but it's probably true - and ultra cyclist Jack Thompson is taking the wiggly line towards his goal: being the first rider to roll down the Champs-Élysées having ridden this year's Tour de France route.
Thompson began 'the Amazing Chase' on Monday, July 5, nine days after the pros - his goal is to complete the 3,500 kilometers of riding and 62,000 metres of climbing before the peloton - allowing him to fulfill his childhood dream.
Having suffered from depression, drug abuse, and addiction earlier in his life, Thompson's journey hasn't been conventional - but he still wants to "win the Tour de France," albeit not in the yellow jersey and without a champagne reception.
So, if Thompson is the first over the line in Paris, what equipment will help him get there?
Image 1 of 3
When it comes to the bike, Thompson has opted for a Specialized Roubaix.
Previously a Tarmac rider, he switched to the Diverge gravel bike earlier in the year, before settling on the brand's endurance bike - which shares a more racey geometry with the Tarmac but benefits from the Future Shock suspension providing front end dampening.
Commenting on the move, he said: "With the many kilometers I ride, I've found that the Future Shock technology is a game changer for me. 200km days, back to back on rough mountain roads is cake. I'm fresh the next day and my body isn't beat up.
"My Tarmac is fast, I love that bike, but the realization that I could combine the stiffness of my tarmac with the extreme forgiveness of my Diverge and have a road weapon that combined the best of both worlds dawned upon me."
The Roubaix is specced out with Roubaix Pro tyres, and deep rims embezzled with the mantra 'it's ok not to be ok', harking back to Thompson's prior demons, and motivation.