All Flanders Classics races, from Omloop to the Tour of Flanders, to have equal prize money
Women will earn the same as men from this year, as €400,000 is split across six races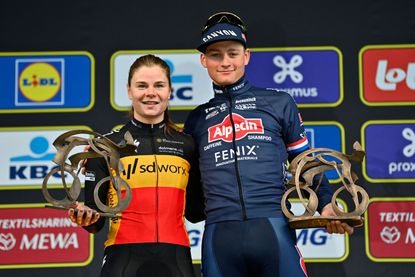 (Image credit: Getty Images)
All road races organised by Flanders Classics will have equal prize money from this year, it was announced on Thursday.
The race organisers are behind six Spring Classics, starting with Omloop Het Nieuwsblad this weekend. Their portfolio also contains the Tour of Flanders.
It is part of a three-year project by Flanders Classics, partnered with KPMG called Closing the Gap. The project was launched in 2020 to develop women's cycling and put it on an equal footing with the men's events.
The Tour of Flanders already had the same prize money, which started last year, but now all five others will have the same winnings for men and women.
"We had already announced that long-term strategy three years ago. In 2023 we wanted to equalize the prize money for all spring races and if you say so, you should do it," the CEO of Flanders Classics, Tomas Van Den Spiegel, told Sporza.
"For us, it is the icing on the cake, part of a bigger picture. We have already been working on upgrading the starting fees, improving our competitions, and increasing media coverage and broadcasting hours."
"You can't be left behind with the prize money and we want to show that this is the momentum. We want to lead by example," he added.
"Women's cycling used to be described by organisers as a cost, today it is an investment."
Dwars door Vlaanderen, Gent-Wevelgem, Scheldeprijs and Brabantse Pijl are the other races organised by Flanders Classics; the last ten years has seen all of their six have women's races, the last of which was Scheldeprijs.
"We want to be innovative and we want to remain first in our class," Van Den Spiegel said. "And so I think other organisers will be obliged to follow."
"This sport is becoming popular. There is a new generation, women's cycling is appealing and the stories stand perfectly on their own. It has an independent future."
As for actual money, €50,000 is split between the riders of the respective men's and women's Tour of Flanders, while the other five have slightly less on offer. Van Den Spiegel said €400,000 is spread across the races.
"Equal pay for women is about more than just money," KPMG's Head of Sales & Marketing Stefanie Pauwels told Sporza. "It also has enormous symbolic value."
"Additional resources are a step towards the best conditions for female cyclists, both financially and sportingly. In this way they can increasingly realize their ambition to sharpen their skills full-time, to excel and to go all the way for a sports career."
"The initiative also leads to a snowball effect: we effectively see that other organisations worldwide follow the example of Flanders Classics Women, such as the Tour de France, thanks to our support."
Thank you for reading 20 articles this month* Join now for unlimited access
Enjoy your first month for just £1 / $1 / €1
*Read 5 free articles per month without a subscription
Join now for unlimited access
Try first month for just £1 / $1 / €1