Retirement lasts just one month for Annemiek van Vleuten as Gravel World Championship ride calls
Dutchwoman insists that she has no interest in gravel racing career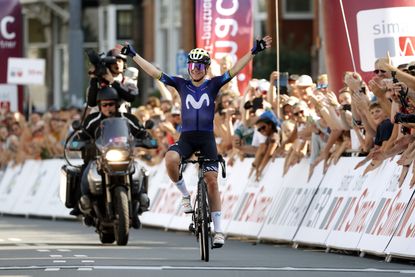 (Image credit: Bas Czerwinski/Getty Images)
What is it with Movistar riders and an inability to retire? Echoing her former teammate Alejandro Valverde continuing as a gravel rider post-road retirement, Annemiek van Vleuten is set to ride the Gravel World Championships in Italy next month.
The four time world champion on the road (across time trial and road race) is to take to the gravel of Veneto on October 7, according to Dutch podcast In Het Wiel.
Van Vleuten told the podcast: "In a crazy mood I said 'yes' to that. The team liked it, the sponsors liked it and I also found it funny to participate."
However, despite her participation in the event, she has "no ambitions" in riding gravel professionally, so it is unlikely we will continue to see her in a Movistar jersey next year, as we have with Valverde.
"I have no ambitions in a gravel career, so I think I will end it here," Van Vleuten said. She also stressed that it would not be an un-retirement.
"I'm going to ride this in my retirement. I'm not prepared for it and I'm not going to train for it," she explained. "I'm going to participate and have a nice photo with Alejandro Valverde. It's a bit a part of my farewell tour. I threw the ball up myself and it was immediately headed in by the team. Before I knew it I was registered. Especially if it is in Italy, I am open to that."
The 40-year-old rode her last race on the road at the Simac Ladies Tour at the beginning of September, after year which saw her win La Vuelta Femenina, the Giro d'Italia Donne and the Tour of Scandinavia, although she finished fourth at the Tour de France Femmes, her biggest goal.
She will join road stars Demi Vollering and Lorena Wiebes in what looks like a strong Dutch squad at the event in northern Italy at the beginning of October. Defending champion, France's Pauline Ferrand-Prévot, is unlikely to participate.
In an interview with Velo published on Monday morning, Van Vleuten described the reaction to her retirement as "overwhelming".
"It's nice that so many people thank me like that," she said. "It's special also because I know where we come from before we were on television. People could not thank me then because I could not entertain them with my racing. It's super nice to hear everything and that it meant so much.
"It was super-cool. I was just doing what I loved and people thanked me for it. It was massive. I've also had so many cards and messages, my inbox is full. Every day, I'm having to go through it and answer all the thank yous and read all the nice messages I get. It's overwhelming."
Fans will get one more time to see the flying Dutchwoman race, whether she says it is in retirement or not.
Thank you for reading 20 articles this month* Join now for unlimited access
Enjoy your first month for just £1 / $1 / €1
*Read 5 free articles per month without a subscription
Join now for unlimited access
Try first month for just £1 / $1 / €1