Daria Pikulik stages upset on first day of Tour Down Under
Human Power Health rider had arrived in Australia on a long haul flight just days before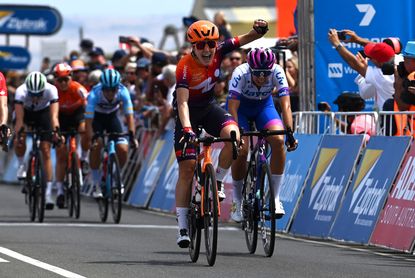 (Image credit: Tim de Waele / Getty)
Daria Pikulik upset the favourites to win stage one of the women's Tour Down Under only four days after arriving in hot and blustery Australia from wintry Poland.
Pikulik (Human Powered Health) roared across the finish line in celebration after pipping Clara Copponi (FDJ Suez) and Georgia Baker (Jayco Alula) in a reduced bunch sprint on Sunday.
With only six of 15 women's WorldTour teams opting to compete in Adelaide much of the pre-race focus had been on in-form Australian contenders, who in most instances have had ample time to acclimatise to the heat and time zone.
However, Pikulik put the home heroes on notice when she navigated the pitfalls of long-haul travel and battering crosswinds, which animated the 110.4km run from one seaside haven in Glenelg to another in Aldinga.
"I like the conditions like that because I'm a track rider, I like when it's dangerous," she laughed.
"I still can't believe that I win today. It's my first WorldTour race in my cycling life.
"I want to thank my teammates for believing in me. We made it together."
The 26-year-old wasn't sure what to expect from the first stage, having arrived in Australia only days before, but explained that she lives and trains near the sea in Poland so is well-practiced in windy conditions, able to keep her position and balance.
"I come here from the winter in Poland, really cold, so the heat here is really hard for me but I don't feel like in the race today that something is going wrong," she said.
"So, focus on tomorrow maybe we can still have the leader jersey, my teammates are also really strong for the climb, but we will see."
Earlier, Keely Bennett (Bridgelane) hit the tarmac hard in an isolated crash about 40km into the opening stage and was transported to hospital. A team spokesman said she received stitches in her elbow and suffered from abrasions.
"We will monitor this week and give her every chance to start Cadel's [Great Ocean Road Race]," the spokesman said.
The three-stage women's tour continues on Monday with a 90km run from Birdwood to Uraidla, which incorporates Mount Lofty.
Assistant race director Carlee Taylor said all WorldTour outfits were invited to the event that following a two-year hiatus due to the COVID-19 pandemic returns with top-tier status.
"Being Australia, it is a bit of a travel," Taylor said.
"The Aussies are used to having to do that every year when they're going over to Europe but starting the year off, especially after COVID, it's been a couple of years since it's been an international race and getting those teams coming back over with a longer season now too on the program; we think it's awesome to have a really strong Australian presence and seeing that depth being showcased on our home roads.
"But we invited all the best teams, and it was up to them on how they wanted to start the season. We're definitely excited to have those that confirmed to come here."
Thank you for reading 20 articles this month* Join now for unlimited access
Enjoy your first month for just £1 / $1 / €1
*Read 5 free articles per month without a subscription
Join now for unlimited access
Try first month for just £1 / $1 / €1