Farewell Thibaut Pinot: Once more with feeling
The Groupama-FDJ rider will be missed, not just for his performances on the bike, but for his emotion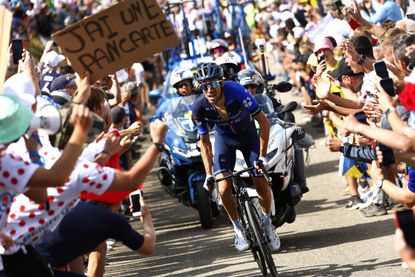 (Image credit: Getty Images)
Come Saturday evening, Thibaut Pinot will no longer be a professional bike rider. The man from Haute-Saône in eastern France will climb off his bike after Il Lombardia, conduct his last post-race interviews, take off his kit one final time, shower, and then cease to be a cyclist. Come Sunday, the 33-year-old will likely already be back home, at his farm, preparing to live his new life with his goats.
Not simply exist, though, in a post-cycling haze, but actually live his life, have fun, relish his rural actuality. As he told French newspaper Libération, at the Tour of Luxembourg last month: "I am finally going to enjoy my life."
Some seek fame; others have fame thrust upon them. The Groupama-FDJ rider was very much the latter, he never did understand his fame. In that same Libé interview, the Frenchman expresses his bemusement at the love fans have shown him over his career: "I can't understand. I don't really have an answer to all that."
The thing is, Pinot does engender a fierce adoration, a respect, even sympathy, from his fans, even if it is not wanted, or at least not demanded. Unlike others at the top of the sport, he shows how he really feels, from his suffering to his adulation, it is all there to see.
What he inspires is not the shallow adulation of social media either, but a tangible effervescence on the roadside. Thibaut Pinot is something else; people can watch the best riders in the world ride past and contain themselves, but lose themselves in his presence.
I was there, at the Tour of the Alps in 2022, when in a typical attack, Pinot launched himself clear, spending 74km up the road alone, in search of a win that he hoped would soothe the pain of having gone without one since 2019. However, he did not count on other riders having a say. Inevitably, he was caught and dropped by Miguel Ángel López, crushing his dream of turning a "s***ty page" in his career.
He sat there, on the side of the road, in the quiet Austrian Alpine village of Kals am Großglockner, sat back against the metal barrier, distraught. While other riders would have gone straight to the bus, Pinot remained there, staring into space. Would that win have truly made him fall back in love with cycling? It's doubtful. While he won the next day, the image of him heartbroken will live longer in my memory than of him winning.
He hasn't won this year, but it was never about that with Pinot. With him the losses almost seemed more important than the wins. The pain and heartbreak, so evident to see, made the wins, when they came mean something.
It's not that we enjoyed seeing him miss out, lose, but it was perhaps easier to relate to. Who among us doesn't carry upon our person the brand of the pain of falling short of our ambitions? It's the reason the blues persists, the reason bleak films and fiction exist, it's the reason the sad music of artists like boygenius or Nick Cave can fill arenas.
But, in sport that alone is not enough, there must also be hope and Pinot provided regular doses. In 2023 he came close again and again at the Giro d'Italia, finishing second on two stages, living up to his moniker as the nearly man, allowing him to show his emotion on repeat.
It was the same at the Tour de France, where he was in the breakaway five times, including one last time on stage 20 to Le Markstein. He rolled the dice one last time, made the breakaway, attacked with 31km to go, only to be caught with 13km still to race. He finished seventh. One more near miss, for the king of near misses.
On one bend on the Petit Ballon there was a whole Pinot fan club, hordes of fans crying out for their hero - the stage was close to his home - and it felt like the perfect send off.
Not that Pinot likes meeting his adoring public: "I think I am more stressed to see them than they are to meet me."
"Thibaut Pinot is a unique rider," his team boss, Marc Madiot explained that day, barely drawing a breath over the next paragraph. "He's a unique rider because, when you look at his palmarès, it's a few lines on a sheet of paper. But each line has a meaning, a story. Why is there so much emotion today? Well, quite simply because I think he's an authentic rider. He lays himself bare, he shows everyone what he's about.
"Sometimes I've even called him up on it and said, 'You're giving too much of yourself.' But actually, it's what has created his strength and his popularity with the fans. Thibaut never pretends. When you're with him every day in the team, it's not always easy, because you feel his torment and difficulty along with him. But conversely when he goes on the hunt for success, he carries you in his arms.
"It's really, really, really unique. When people make rankings of the best riders in history, Pinot won't be there. But he'll be remembered as one of the most real riders."
Pinot probably won't win Il Lombardia on Saturday, although he did win it in 2018, one of the crowning achievements of his career. It's crucial not to forget he won 33 races, was the best young rider at the Tour de France, finished on the podium of the same race, won the mountains jersey at the Giro. He has been a great rider.
However, his position in the sport has been elevated through his near-misses, his attempts, and the fact that he has been so emotive through it all.
As Madiot put it: "We can think: it wasn't always easy. But we lived it."
Pinot is not the only rider retiring this weekend; Paris-Tours sees the end of the careers of Greg van Avermaet and Tony Gallopin. Just last weekend Peter Sagan stepped off his bike for a final time. Pinot's departure feels different though, the end of an era of riders showing how they really feel, perhaps the last of the great emoters in the sport of cycling. We live in an age of media-trained automatons to which the man from the Haut-Saône did not belong, could not belong.
Farewell, Thibaut. I hope the extra time with the goats brings you happiness.
Thank you for reading 20 articles this month* Join now for unlimited access
Enjoy your first month for just £1 / $1 / €1
*Read 5 free articles per month without a subscription
Join now for unlimited access
Try first month for just £1 / $1 / €1