'God is why I'm still racing': Amber Neben on winning the Pan-American TT championships at 48
American on time trialling, the challenges of racing a continental championships, and her faith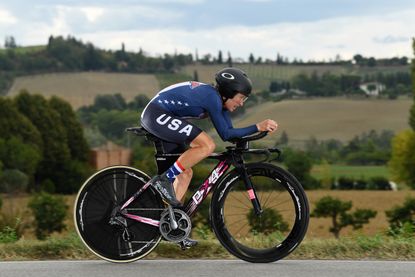 (Image credit: Getty Images)
There is one answer as to why Amber Neben is still racing, and winning, aged 48: her faith. "God's leading is why I started racing, and why I am still racing," she told Cycling Weekly over the weekend.
The American time-trial specialist became Pan-American champion for the fourth time in her lengthy career last Tuesday, 22 years on from when she first pinned on a bib number and raced at an elite level.
Neben, twice former world time trial champion, is 21 years older than Aranza Valentina Villalón of Chile, who finished second in the race, and 14 years older than Alison Jackson of Canada (of recent Paris-Roubaix-winning fame) in third, but is still riding, still winning races, still aiming for the top.
"I always said I would race as long as the Lord kept the door open," she explained. "It actually feels pretty cool. I think I'm becoming more aware of how special and inspiring this is for people in different walks of life all over the world.
"I've said this in many places, but you are never too young or old or anything to dream. If God has given you an ability and a passion, don't be afraid to use them regardless of what the 'world' might say is a limit!
"There is nobody too small and nothing too insignificant in God's hands. He can and will help you and use you to make an impact in your own world."
It is clear that through the powers that she has been given, Neben is still a very powerful rider, averaging 43.678km/h across the 25.6km course in Panama City last week. Annemiek van Vleuten, the current road world champion, is retiring this year, and is 40; this is seen as incredible longevity. Spare a thought for the woman eight years her senior, then.
Since 2020, the American has only competed in elite time trials - apart from championship road races - and has an enviable record. Twice second at the US National Championships, sixth and fourth at the World Championships, fifth at the Olympics, and third at the Chrono des Nations last year, behind world champion Ellen van Dijk.
"I guess I've just learned over the years that if you are capable of winning then you will also be 'close' more often than you actually do win," she said. "I know to keep pressing. It was a relief in the sense that I wanted to win, however ultimately, I can always rest in God's hands.
"It feels great to win another championship event, especially at this point in my career. I don't ever take these for granted, and I'm very excited to have punched a ticket to the World Championships.
"This race was in the back of my mind early in the year, but it actually did not become a big goal until the door opened after the selection about 3-4 weeks ago."
It feels as if she has found her place, late in her career, as a time-triallist, but it still feels like an incredible feat to be winning races, to be battling against people from another generation. It might not be road racing, but it is just as impressive.
"Even when I was a GC rider and climber, I always loved time trialing. I think it was my distance running background. I also think long climbs are very similar to time trialing. Being able to focus on the time trial has definitely extended my career and allowed me to manage a lot of other responsibilities off the bike while also still targeting some big events."
Targeting an event like the Pan-Am championships must be hard just because of the breadth of competitors that Neben might never have heard of, let alone raced against - this is not the World Championships, with identifiable names.
"It's hard to know in a race like this," she explained. "We do not see many of the riders, and as you know, there is talent all over the world. I typically don't overthink the other competitors.
"My goal is always to prepare well, take care of the details and then execute on the day. I try not to worry about the things that are out of my control but simply focus on doing my best with the things I can control.
"Then, I just give my best effort on the day. The joy for me is in the process and the faith challenge to lean into God's strength and not mine. When I do win, it is always special, but it is not everything."
Her whole racing career, clearly, is affected and led by her faith, something that has always been a part of her career as a rider, and is clear from just a cursory glance at Neben's social media. In a British society that seems to be increasingly secular, it is easy to forget how much faith can drive someone, how it can be the necessary force for an athlete, something that is worth remembering.
"Ephesians [chapter:verse] 2:10 tells me I am God's Workmanship, made for a purpose," Neben tells CW. "Heb [Letter to the Hebrews] 12:2 says let us run the race set before us with perseverance, fixing our eyes on Jesus the author and finisher of our faith. Phil [Letter to the Philippians] 4:13 tells me I can do anything through Christ who strengthens me.
"Ultimately, my faith gives me purpose, and it powers me. I know God will give me the strength to 'run' my race. Sport, and life, are full of more hard days than good, so having a 'why' that is bigger than me and an external power source, Christ in me, keeps me persevering through all the obstacles, setbacks and even my age.
"My racing becomes a response to what He has done for me - that would be Ephesians 2:8-9 - and I hope it also gives people a glimpse into the relationship side of knowing Jesus. I am not religious, but I do know a Saviour who gives me hope, joy and peace that is independent of my circumstances."
As long as her faith keeps guiding her, expect Neben to keep digging deep and putting out impressive performances, whatever her age.
Thank you for reading 20 articles this month* Join now for unlimited access
Enjoy your first month for just £1 / $1 / €1
*Read 5 free articles per month without a subscription
Join now for unlimited access
Try first month for just £1 / $1 / €1