Intermarché-Circus-Wanty riders apologise after being withdrawn from race over racist gesture
Madis Mihkels and Gerben Thijssen sent home from Tour of Guangxi after social media post of racist gesture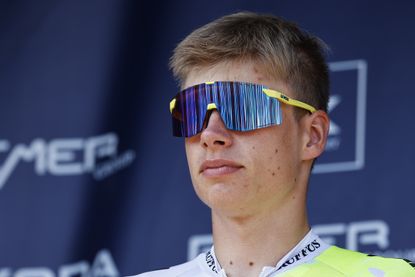 (Image credit: Getty Images)
The two Intermarché-Circus-Wanty riders sent home from the Tour of Guangxi after a photo was posted on social media of one making a racist gesture have apologised.
On Wednesday, Mads Mihkels and Gerben Thijssen were withdrawn from the final WorldTour race of the season after a photo of the former making the gesture was posted on the latter's Instagram page.
On Thursday morning, Thijssen posted an apology on his X, formerly known as Twitter, account, which was sent on behalf of himself and Mihkels.
In it, the pair said it was never their "intention to harm anybody", and that they realise what they did was "offensive and wrong".
"We felt honoured to be invited to participate in the Tour of Guangxi," the pair wrote. "We feel really sorry for what happened yesterday morning, we realize that our social media publication was offensive and wrong. We feel really good in a multicultural environment, so it was never our intention to harm anybody," the statement said.
"We want to apologise for our behaviour and our lack of education about the Asian culture to all people who felt offended, especially the Chinese fans and all parties involved in the organisation of the Tour of Guangxi. We accept our withdrawal from the race. This error is an important life lesson for us both, which will definitely guide us to adopt a more humble attitude in the future."
Mihkels was pictured on teammate Thijssen's Instagram making a crude action with his eyes while in Beihai, in the south of China, where Intermarché are for the Tour of Guangxi, which begins tomorrow. Thijsen's Instagram story, along with his account, were removed. Screenshots are still circulating on social media.
In a statement published on X, formerly Twitter, on Wednesday morning, Intermarché apologised, and said that the "necessary disciplinary steps" would be taken over the incident.
"We sincerely regret the behaviour of our rider Madis Mihkels and the images shown on the social media," the team said. "We would like to apologise to the Chinese people and fans, to the government of Guangxi, to the Chinese Cycling Association, and all parties involved in the organisation of Tour of Guangxi for the image given of our sport.
"For ever, our team Intermarché-Circus-Wanty, composed of more than 15 nationalities in our project, and our partners always defend firmly equal opportunities and fight daily against racism. We will withdraw Madis Mihkels from the race and take the necessary disciplinary steps to close this incident."
A later updated statement said that Thijssen was also withdrawn.
It is an abrupt end to Mihkels' first year with Intermarché, during which time he won a stage of the Deutschland Tour. Thijssen was the winner of this year's Ronde van Limburg and Bredene Koksijde Classic.
On Wednesday afternoon, the UCI, cycling's governing body, released a statement condemning the incident.
"The Union Cycliste Internationale (UCI) strongly condemns the behaviour of riders Madis Mihkels and Gerben Thijssen for the publication on Gerben Thijssen's Instagram account of a video including two photos of Madis Mikhels making a racist and discriminatory gesture," a spokesperson said.
"The UCI commends the swift reaction of the two riders' team, Intermarché-Circus-Wanty , which decided to withdraw them from the Gree - Tour of Guangxi and assess the disciplinary actions it may take following the incident. The event organiser also acted quickly by organising a meeting with those concerned and the local authorities, during which the riders expressed their apologies.
"The UCI has decided to refer the matter to the UCI Disciplinary Commission for a possible breach of article 12.4.004 of the UCI Regulations, which states that any person who, by word or deed, bemeans, discriminates against or denigrates a person or a group of persons in a manner that violates human dignity, on grounds such as race or ethnic origin, shall receive a disciplinary action."
Mihkels is not the first to be sent home from a race after a social media controversy. In 2019, Iljo Keisse was thrown off of the Tour of San Juan after he was photographed miming a sex act behind the woman, who said she felt "disrespected and worthless" after the incident.
In 2019, Gianni Moscon was suspended by Team Sky after an incident at the Tour de Romandie during which the 23-year-old said racist insults to FDJ's Kévin Reza.
The Italian was given a "formal written warning", suspended from racing for six weeks, and was sent to a "diversity awareness course".
In 2020, Trek-Segafredo's Quinn Simmons apologised for tweeting a black hand emoji while stating his support for Donald Trump, adding he did not intend it to be interpreted as racist.
The 19-year-old Trek-Segafredo rider was caught up in controversy after tweeting "Bye" followed by a black hand emoji in response to Dutch commentator José Been, who had told her followers to unfollow her if they supported US President Donald Trump.
Thank you for reading 20 articles this month* Join now for unlimited access
Enjoy your first month for just £1 / $1 / €1
*Read 5 free articles per month without a subscription
Join now for unlimited access
Try first month for just £1 / $1 / €1