Jeffrey Hoogland smashes one-kilometre time trial world record
Dutchman flies round Aguascalientes velodrome in 55.433 seconds to break ten-year record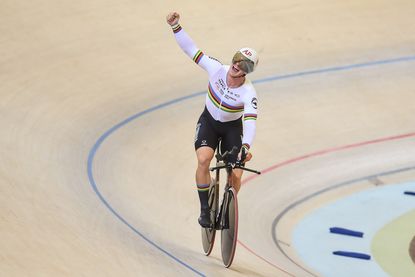 (Image credit: KNWU)
Jeffrey Hoogland made history on Tuesday, smashing the world record for the one-kilometre time trial on the track.
The Dutchman sped around the track at an average speed of 64.943km/h to set a new record of 55.433 seconds, taking almost a second off the existing record, 56.303 seconds, held by France's François Pervis since 2013. Over the past ten years, no-one else had come close.
Speaking after setting the new world record at altitude at Aguascalientes in Mexico, Hoogland called it a "crowning achievement" of his career. He is reigning Olympic champion in the team sprint, and a nine-time world champion in the team sprint and the time trial, including this year.
Previous to Tuesday, the 30-year-old was the only person to break the 58-second barrier, doing so twice at sea level; once at the European Championships and then again at last month's UCI World Championships. He has now broken the 56-second barrier.
"It's a crowning achievement of my titles and a wonderful start towards the 2024 Olympic Games in Paris," Hoogland said.
"I can't enjoy it at the moment, it really hurts everywhere. I am very happy with the world record, that is why I came here. The fact that I am almost 1 second faster is really cool."
"Recently everything has had to make way for this moment," Hoogland continued. "I don't know how long my career will last, but I wanted to remain associated with the sport forever with a world record. The fact that I have now succeeded feels fantastic. I am very grateful to all the partners who have given me this opportunity."
In the minutes before Hoogland began his effort, a motorbike circled the track at speed to generate air flow inside the velodrome.
This was done to simulate an in-race situation, where typically there are two riders, racing on either side of the track.
Previously, the sprinter's national team coach, Mehdi Kordi, told Cycling Weekly that the preparation had been "quite intense".
"There has been quote unquote science behind it," said Kordi. So far, this has been centred on wind tunnel testing with a mannequin, time trial position tune-ups, and skinsuit adjustments with national team supplier AGU.
"Jeff is quite a strong person," his coach continued. "He has broken a lot of cranks and chains. One of the main things is trying to get something sturdy enough, so a lot of the handlebars that we've experimented with, he's too strong for them, and they snap off.
"We've got like a 10-year-old TT bar, because that's the only one that can survive his strength."
The cost of the entire project is said to be in excess of €65,000, with funding coming from various sponsors, such as Nederlandse Loterij, financial consultant AP Support and Yamaha.
Wednesday was set as a reserve day had Hoogland not broken the world record on Tuesday; in fact, he set the 500m record on his first go, too. As a result, the Dutch sprinter will attempt the 200m record later today.
Thank you for reading 20 articles this month* Join now for unlimited access
Enjoy your first month for just £1 / $1 / €1
*Read 5 free articles per month without a subscription
Join now for unlimited access
Try first month for just £1 / $1 / €1