Opinion: Alpe d'Huez was masterful, but Strade Bianche win was Tom Pidcock's finest yet
The stunning victory forged in the dust of Monte Sante Marie firmly eclipsed last summer's Tour de France stage winning glory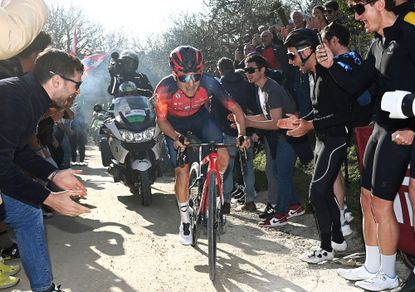 (Image credit: Getty Images)
On Saturday afternoon, reports of a loud bang heard across England were later reported as being a sonic boom from a fighter jet, scrambling to assist a stricken aircraft. Although of course, we know that was really a cover up. What really caused such a bang was a certain 23-year-old from Leeds on a Pinarello Dogma, smashing through the gravel of Strade Bianche in such resounding style that it generated shockwaves all the way to northern Europe.

In a career that's already seen so much glory, it's a tough task to rank Tom Pidcock's achievements in terms of greatness. But it's safe to say that Saturday's victory firmly eclipsed Alpe d'Huez glory last summer as Pidcock's finest hour yet.

Now to some, arguing it usurped the prestige of a Tour de France stage win may seem like a bold claim. However, starting by looking at the makeup of the competition this time round proves the point that it certainly did.
When reflecting on victory on the Alpe, Pidcock previously told CW that he "didn't win from the best riders in the world," although this time, it was different. Yes, he's beaten Wout van Aert before, but this was a class above. What unfolded on Saturday on the Monte Sante Marie was an unrelenting, bestial attack from the peloton on the races decisive five-star gravel sector to make a difference. Not simply winning a final sprint at Brabantse Pijl.
In the final phase of racing on Saturday, he was faced with a group containing some of the best Classics riders of their generation, breathing down his neck as he surged towards the finish. With 20 kilometres left, Pidcock had to hold off the likes of Tiesj Benoot and Matej Mohorič, two former winners of both Strade Bianche and Milan-San Remo respectively, and world class in a one day setting.

In comparison, last summer he was racing Chris Froome- still recovering from injury - and the last man standing Louis Meintjes, a 31 year-old without a WorldTour win at that point.
Fireworks on the Monte Sante Marie
Secondly, you have to look at the way in which the race winning move was formed, and his decision making on the road to read the situation around him.
Mohorič last week revealed that those riders wishing to make the difference, knew that they didn't necessarily need to wait until Siena arrived. The Monte Sante Marie was going to be decisive, as Mohorič predicted. Despite his young age, Pidcock is a smart and astute bike rider and will have done all the research he needed in the build-up.
Once Alberto Bettiol took flight on that key sector, the Ineos man was on the move in a flash to counter, sensing that if there was a right time to hit the turbo button, this was it.
When the Italian could no longer hold his wheel, what followed next brought the house down. Pidcock unrelentingly tore through the gravel on the key sector like it was nothing, thrashing and throwing his bike up the punchy climbs at speed before descending like a raptor in full flight towards its prey.
Completely and utterly fearless, it was the kind of daredevil racing on historic roads that would have drawn approval from the likes of Fausto Coppi, should he have been racing 50 years ago. Although how much the Campionissimo would have cared about taking the Strava KOM, we'll never know.
It's not a secret that Pidcock has made this style of gung-ho racing his own personal art form, and it takes a certain character to be able hold it together once the road drops away on such challenging gravel descents. Only riders with a certain psychological edge are capable of working it in their favour within a race situation. Pidcock is one of those riders, and quite possibly the very best there is right now.
Monument victory a matter of time
Finally, when the terracotta houses and crowded streets of the Tuscan City arrived, this was the decisive moment, and the point in which all that guile and effort could come to nothing. When a leading racer has had their advantage shredded to just seconds, so many would lose heart as the lactate burned in every part of their body.
As Siena approached he pushed on, masterfully controlling the gap all the way to the finish in truly World Class style.
Granted, he benefited from indecision in the group behind, but in the pressure cooker of a Classic finale, it still takes guts and panache to keep calm and get the job done instead of giving in to the inevitable burning desire to glance over your shoulder and check the gap behind you.
At that point it's all over, he will have known that. Instead, we saw a measured and calculating performance, making use of every millimetre of road left, pushing on with every downhill and sprinting into the corners towards the base of the Via Santa Caterina. With such a bold statement of intent, this early in the Spring Campaign, it feels inevitable that a Monument victory will soon follow.
Thank you for reading 20 articles this month* Join now for unlimited access
Enjoy your first month for just £1 / $1 / €1
*Read 5 free articles per month without a subscription
Join now for unlimited access
Try first month for just £1 / $1 / €1