Opinion: Professional cyclists deserve a life too
Perhaps 12 nights out at the end of the season shouldn't be too bad a thing, really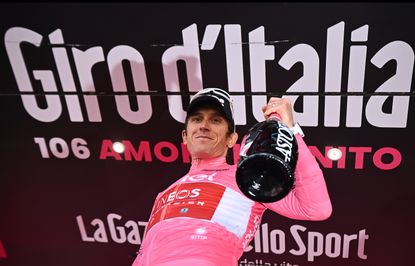 (Image credit: Getty Images)
Senior news and feature writer at Cycling Weekly, Adam brings his weekly opinion on the goings on at the upper echelons of our sport.
This piece is part of The Leadout, the offering of newsletters from Cycling Weekly and Cyclingnews. To get this in your inbox, subscribe here. Email Adam on adam.becket@futurenet.com if you'd like to chat.
In an interview in The Times last week, the former Tour de France champion Geraint Thomas revealed that he still likes to go large in the off-season. Just to take a break, have a bit of a change.
"The last two weeks, honestly, I think I've been drunk 12 out of the 14 nights," he said. "Since coming back to Cardiff, it's been mad. That's the way you meet your mates. Like, 'Oh, do you want to catch up? Yeah, let's go for dinner, or just go down the pub'," Thomas added.
While getting drunk 12 times in a fortnight seems extreme, it is well worth remembering that Thomas' thresholds for getting inebriated are going to be much much lower that those of regular drinkers, as someone who spends most of the season abstinent.
"I don't drink during the season, apart from the odd drink, but in the off-season you let yourself go," he explained. "For sure, the tolerance is lower at the start, but I feel like I have a good drinking condition now. I don't know if it's a British, or an Aussie mentality, the culture of just going out and getting drunk when you're young."
"That sticks with you and that's the way I socialise. That blowout – that real normality – is what I need, because now I'm like, 'Mate, I really need to just get on my bike and get structured.'"
Some on social media did not approve: "Little does he know… a glimpse into the end of his career and post career… not good," one wrote on X, while another typed: "Not being able to drink without ending up drunk is a huge danger. He should seek help."
We wouldn't want to encourage irresponsible drinking, but seeing a cyclist talk about actually having time off and having a bit of a balanced life is refreshing, especially in the era of growing professionalism - the Training Peaks, controlled diet and life era if you will. There are probably better ways of letting off steam than going from 0-100 straight away, but as Thomas said, it does seem a particularly British way of doing it.
What this also does is remind us of just how many sacrifices professional cyclists have to make during the season; it always sounds like quite the monastic existence, which is not for me.
Having a few drinks in November is hardly the same as having a personality, but it does show that Thomas is not a robot, but a character. Personality is one of the things that makes cycling such an entertaining sport, and any attempt to suck all joy out of road cycling is not a future which I support; all things take moderation, and riders cannot be expected to be on for 365 days a year, otherwise they will break.
We do not want cycling becoming a sport like football is in the UK, where the behaviour of players is policed by fans and the media away from the pitch as much as on it, just ask Marcus Rashford about his birthday party.
Perhaps Geraint Thomas' longevity is down to his ability to take time away from the bike before getting back on it; it actually appears that he is implying that his time off gives him a drive to get back onto the bike, and that seems like a fairly healthy pattern. Rather this that a ten-year career in which all fun is absent and then a bigger blowout at the other end, anyway.
I'm always impressed with cyclists who have lives away from their bikes, whether that's a hinterland which includes local politics, like Florian Vermeersch, or a more creative side, like Christine Majerus and her illustration. Even just running is something a bit different - the latest to get the bug is Leo Hayter, who casually ran a 10k in 35 minutes at the weekend, well done him. It is always useful to remember that professional athletes are humans too, and have normal lives.
David Lappartient reads this column
Well, probably not, but it was very eerie to write a column, in part, last week about the nonsense of the UCI Cyclo-Cross World Cup system when the big three aren't taking part at the moment, and then for the UCI's president to speak out against riders who skip World Cup rounds.
However, Lappartient's comments were railing against Thibau Nys, a rider who at least has actually taken part in cyclo-cross races this season, unlike Mathieu van der Poel, Wout van Aert and Tom Pidcock, who have not.
Anyway, nice to have you with us, David, if you're here. The World Cup system is nonsense.
This year Black Friday is running from November 24th - 27th. We've rounded up all the best Black Friday bike deals we've found in our main hub page. With deals spanning components, tech and riding kit, you're guaranteed to find a bargain.
Thank you for reading 20 articles this month* Join now for unlimited access
Enjoy your first month for just £1 / $1 / €1
*Read 5 free articles per month without a subscription
Join now for unlimited access
Try first month for just £1 / $1 / €1