Orangina sets out to 'conquer cycling fans' taste buds' with Tour de France deal
Pulp-based beverage in three year partnership with Tour de France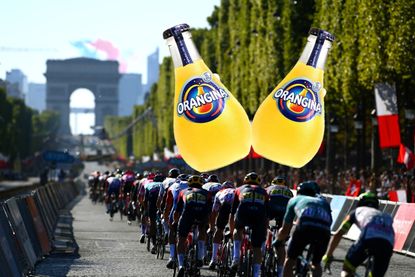 (Image credit: Getty Images)
The Tricolor, the baguette, gauloises: all French icons, which the Tour de France, the Frenchest of French events could ally itself with. But non, it is Orangina, pulp and all, which represents modern France, it seems.
The iconic French beverage will become a partner for the Tour de France and the Tour de France Femmes avec Zwift for the next three years, Tour organiser ASO excitedly revealed today.
In a breathless press release ASO said: "One and the other have become part of the national heritage, each in its own way."
The popular juice and soda-based based drink will release three limited edition cans this summer to celebrate the new partnership between the two French stalwarts, which the brand says will illustrate 'the most shaken roads of the Tour de France'. Unlike the citrus refreshment's long-running slogan, we hope the riders are already awake when they reach the 'shaken roads' in question.
Fizzing with anticipation ASO said: "Orangina first hit taste buds in the summer of 1936, when the Belgian Sylvère Maes and the Frenchman Antonin Magne were locked in a vicious battle for the 30th edition of the Tour de France.
"A short time later, in 1954, the fizzy drink, by then a consumer favourite, made its first foray into the legend of the Tour by sponsoring stage 4 from Rouen to Caen, in which the reigning champion, Louison Bobet, seized the overall lead.
"Fate had placed the little yellow bottle on a path towards the yellow jersey, and now, their trajectories have intersected with this far-reaching partnership for the next three editions."
As part of the deal Orangina will have a spot in the road-going publicity caravan, in the cars following the race and at all the merch stalls around the race that it said would help it "conquer the taste buds of thirsty fans around the world".
Yann Le Moënner, general manager of ASO, added: "You can recognise a bottle of Orangina at first sight, or even in a blind test. Both the container and the drink inside it have become part of our collective psyche.
"It is hard to overlook its powerful synergies with the Tour de France, and the alliance between these two 'monuments' of French culture is only natural. We expect this to be a refreshing and bubbly relationship, of course."
Whether Orangina will replace riders' favoured drink of choice in an emergency is yet to be seen. For decades cyclists suffering from a bonk have reached for the sugary hit of Coca Cola in an emergency to the extent it's often referred to as "the red ambulance".
Yet, Orangina gives the same level of sugary hit with 10g of sugar per 100ml of drink. Orangina parent company Suntory will doubtless hope the orange ambulance is revving into action.
Thank you for reading 20 articles this month* Join now for unlimited access
Enjoy your first month for just £1 / $1 / €1
*Read 5 free articles per month without a subscription
Join now for unlimited access
Try first month for just £1 / $1 / €1