Mavic Vision arm-warmers review
Rain and wind resistant with 360° visibility for both day and nighttime riding, could the Mavic Vision be the only arm warmer you'll ever need?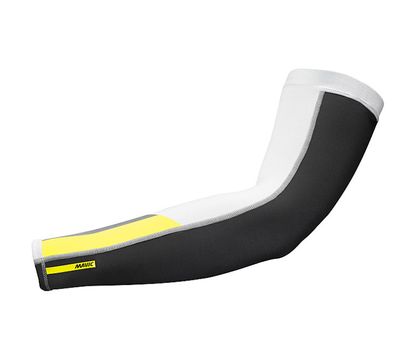 The Mavic Vision arm warmers have all the cycling kit wish list items of high viz, water and wind resistant boxes ticked, but do cross over with the thermal requirements of a jersey and require quite a bit of after care. If you ride hilly terrain in changeable conditions, however, they could be a real wardrobe upgrade, making them a much more viable purchase.
Reasons to buy
+

Front and side visibility

+

High Viz

+

Rain and wind resistant

+

Unisex

+

Five size options

+
+
Reasons to avoid
-

30 degree wash only

-

Aftercare Required

-

Cost
You can trust Cycling Weekly. Our team of experts put in hard miles testing cycling tech and will always share honest, unbiased advice to help you choose. Find out more about how we test.
With nearly 10 years of apparel manufacturing experience under its belt, Mavic, purveyor of fine wheels such as the Ksyrium and Cosmic, is becoming just as highly regarded as a clothing brand. We've been impressed with what we've seen of the Vision collection so far – Vision H2O Vest, Vision Thermo Gloves and Vision Shoe Covers – and have high expectations for the Mavic Vision arm-warmers.
>>>Buyers guide to arm-warmers
Construction
Made from thermal polyester, the Mavic Vision arm-warmers are constructed in three parts: a Roubaix-type thermal high stretch on the underarm, a dense wind-resistant shell overarm and a silicone-backed elasticated upper-arm gripper, all of which is protected with a DWR (durable water repellent) coating meaning water should just bead off.
The overarm shell fabric's high-fleece inner has been constructed in a chequered pattern, which in theory should trap pockets of air, making the Mavic Vision arm warmers also very warm.
As well as being thermal, wind and rain resistant, the qualification the Mavic Vision arm-warmers carry is the high-visibility design. On the upper-arm shell, there's both high-vis and reflective detailing which should be visible to other road users from the front and side.
The ride
At 44cm long for a small size, the Mavic Vision arm-warmers are long enough to reach from armpit to hand, preventing any unsightly and chilly jersey-arm gaps appearing on even the shortest of jersey sleeves.
The anatomical cut of the Mavic Vision arm warmers ensures that all seams sit away from elbows (inner and outer) as well as from the outer edge of the forearm and wrists, meaning that even in a time trial position there are no uncomfortable fabric joins.
The overall size of the Mavic Vision arm warmers is very nearly spot on. The elasticated silicone-backed upper arm gripper does hold the arm warmer very securely in place with a slight squeeze noticeable on the arm which isn't uncomfortable, but is a visible compression.
The underarm high-stretch fabric was skin tight, while the upper shell, by the nature of its dense construction, was slightly looser to allow for arm movement. Again this wasn't uncomfortable by any means, just a visible fit difference.
Once on I pretty much forgot about the Mavic Vision arm-warmers, a sure sign of their comfort. The reflective and high viz strips are sensibly placed on the outer forearm and down the length of the arm and were visible to other road users in all handlebar positions from both the front and side.
In light rain the water just beaded off, keeping me warm throughout the ride.
When climbing, I tend to be in the habit of pulling my arms down, as I can run pretty warm at times, and I did notice that these are slightly bulkier on the wrist than other arm warmers, mostly due to the shell fabric, although at just 60grams for the pair it's by no means any extra weight.
When I did leave the arms up and worked hard, I noticed that they weren't quite as breathable as standard non wind-proof arm warmers, but for the benefits of wind and water resistance, I'll happily take a slightly damp inner once I was finished on the ride.
There is a fly in the ointment however, like the Mavic Vision H2O vest, the Mavic Vision arm warmers are limited to 30 degree wash, and the DWR treatment will need to be reapplied eventually. This does make for an element of after care faff as well as making stains from road spay all but impossible to remove.
The other slight nagging thought is that when you have a requirement for such thermal, rain and wind resistant arm warmers, should you really be reaching for a long sleeve jersey/ jacket instead? I personally think these are ideal for the hills in changeable weather conditions, think spring / autumn (or the current summer we're experiencing in the north of the UK), which is exactly the terrain I test in, but realise this might not be everyone's stomping ground.
Value
With all of the cycling kit wish list items of high viz, water and wind resistant boxes ticked, the Mavic Vision arm warmers are going to be really appealing to many riders, but with the strict after wear guidelines, it may put easy life riders off, and £37.50 is still quite a bit towards a whole jacket. That said, I can see them becoming a real go to product for those who decide they can keep up with the aftercare, and ride in the right kind of conditions making them a much more viable piece of kit.
Thank you for reading 20 articles this month* Join now for unlimited access
Enjoy your first month for just £1 / $1 / €1
*Read 5 free articles per month without a subscription
Join now for unlimited access
Try first month for just £1 / $1 / €1