Carney Reflective Sleeves arm warmers review
After a kickstarter fundrasing campaign, new cycling brand Carney has successfully brought its first cycling safety piece of clothing to market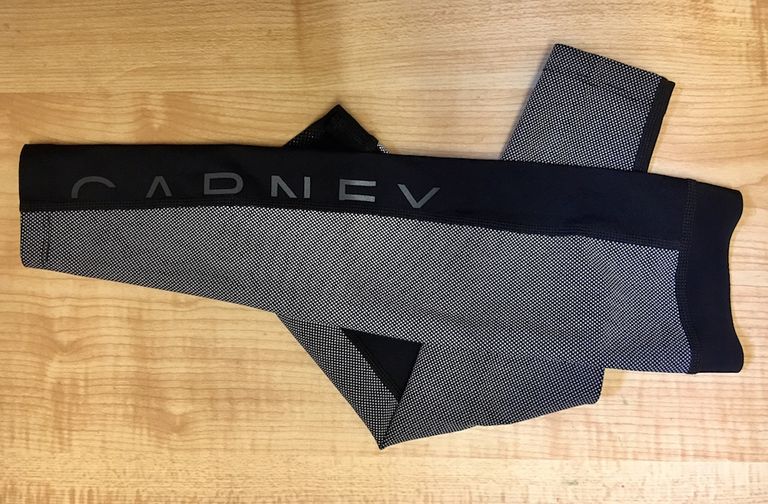 Cycling Weekly Verdict
The well fitting Carney Reflective Sleeves arm warmers are great in daylight and at night time, even in low light levels, delivering 360° visibility to other road users. The stretchy glass bead-embedded fabric promises not to fade over time, making these great value for money. A fantastic product that should be in every cyclist's kit bag.
Reasons to buy
+

Reflective in all light conditions

+

360° visibility to other road users

+

Unisex

+

Good fit

+

Washable

+
We first saw Carney back in September 2016 when it launched its kickstarter campaign to take its prototype arm warmers to production. It's been a rocky road for Carney's founder, regular club cyclist Ros Clitheroe, but the brand has finally produced its first run of the Carney Reflective Sleeves arm warmers.
>>> Buy Carney Reflective Sleeves now for £39.99 
Construction
The two-panel main body of Carney Reflective Sleeves arm warmers are made from a polyamide-elastane mix, with the inner arm panel containing a slightly lower 15 per cent elastane content and finished with a soft Roubaix-like texture.
The rest of the arm on the Carney Reflective Sleeves arm warmers – the larger of the two panels, wrapping three quarters around the arm – uses a higer elastane content, 19 per cent and also contains 13 per cent glass, These are tiny glass beads to be precise.
The main panel fabric of the Carney Reflective Sleeves arm warmers has been embedded with thousands of reflective beads which shine both at day and night (under light).
As opposed to standard reflective fabrics, Carney says these beads also allow the arm warmers to reflect in low level lights, doing away with the need for high-vis colours.
Carney says the other benefit of using this glass-enhanced fabric is that unlike other reflective materials that wear or peel off with washing, as long as you stick to the washing instructions (30°C wash) they will stay as reflective as the day you bought them.
At the top of the Carney Reflective Sleeves arm warmers is a 2cm-wide single gripper, which is silicone backed. The bottom is neatly finished with a standard 1cm hem.
Ride
As far as I'm aware, this is the first time I've ever ridden with glass-embedded fabric and I was impressed at the level of movement and flexibility the fabric gave me.
The fabric isn't quite as stretchy as standard Lycra, but to be honest this is only really noticeable when pulling the Carney Reflective Sleeves arm warmers on.
Once out riding the arms stayed put, without any arm-jersey gaps making an appearance. The reflective qualities of the arms are impressive in all lighting levels and give 360° visibility to other road users thanks to the entire outer arm being wrapped in the fabric.
As expected, the polyamide fabric isn't quite as breathable as polyester, but neither is it windproof, so unless you're stationary for a while in warm sunlight, sweat build-up isn't really an issue.
The non-windproofing/thermal aspect to the Carney Reflective Sleeves arm warmers does mean that they will have temperature limitations, but realistically arm warmers in the main only have a limited season, and I can only hope Carney brings a winter range of clothing to the market sharpish.
Value
There is a shed oad of high-vis and reflective cycling wear on the market, but its often with the compromise of having to wear very bright colours or donning an additional layer. A product that integrates subtlety and safety is very rare, if not impossible, to find.
The Carney Reflective Sleeves arm warmers have really made an impression on me, to the point where while using the arm warmers, even in the day, I do feel much more visible on the road. These have quickly become my go-to arm warmers.
The fact that they also promise significant durability over time with the fabric not at risk of fading or peeling off makes them excellent value for money.