VOLT Infinity 1 review
Meet one of the most advanced electric bikes on the market, and it's made in the UK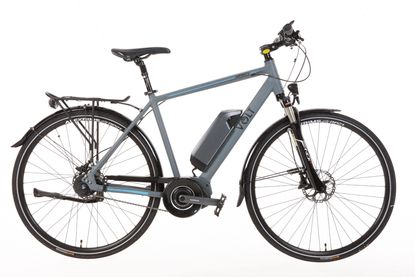 The VOLT Infinity 1 electric bike absolutely fantastic to ride. It is not only great fun, but the help it gives you while pedalling with the smart system mounted on the frame is really useful and will save you a lot of fatigue. Electric bikes are still quite expensive: the Infinity 1 comes with a price tag of £2,499.00, but its specification and quality are undeniable.
Reasons to buy
+

Technologically advanced

+

Shimano Steps groupset

+

Torque sensor

+
Reasons to avoid
-

Rear wheel doesn't have a quick-release system

-

Still expensive
Why you can trust Cycling Weekly Our expert reviewers spend hours testing and comparing products and services so you can choose the best for you. Find out more about how we test.
At a first glance, the VOLT Infinity 1 looks like a normal city bike with a really big water bottle. And if you don't know anything about it, you wouldn't guess that the big container on the down tube is actually a battery connected to a motor that assists you as you pedal.
But this is what the VOLT Infinity 1 is all about: an electric bike capable of assisting you while pedalling with the use of the electric power. The core of this VOLT – a UK brand based in London – is a Sony Lithium-Polymer battery (36V power), claimed to last more than 70 miles with the middle or low consumption settings of the system. The consumption is based on real test conducted by VOLT and on its website you can see the parameters for the test.
>>> Electric bike batteries: everything you need to know
The battery is then connected to a motor placed in the bottom bracket area (called mid-drive motors) and it gives it the energy that is necessary to move forward.
However, the VOLT Infinity 1 is not as simple as it may seem, as it's actually one of the most highly developed bikes I've seen. Don't panic though: it does work in a really simple way.
Shimano Steps
The VOLT Infinity 1 mounts the new Shimano Steps system, the very first mid-drive motor and groupset (or crank-drive motor, for the position it takes on the bike). It's the very first motor developed by Shimano for electric bikes. The Steps motor – which is limited to a power of 250W for the EU and UK law – is also smart. Its torque sensor is capable of quantifying the energy you put to your pedals and it gives you a level of electric help relative to that energy. No more, no less.
This system is developed to manage the battery consumption and makes it last longer. And with a simple touch on a button on the left of the handlebar, you can choose between a High, Normal, or Eco levels of assistance. These will affect the battery's power to be used and will change consumption of the battery, meaning that despite the managing system you can decide how much the motor will help you pedalling.
Watch: what's it like to ride an electric bike?
It might take some time to get used to the system and feel all the differences between the three options, but on hills you can really feel the differences between them. And when you are pedalling assisted, it is like being pulled from or towed by an external force. On the little hill we normally use to test road bikes and their performances uphill, I really felt flying with the high assistance. Not that I am making any assumptions here, but I kind of felt like Chris Froome for a moment! (Just for a moment, though).
Shimano Alfine 11 Di2
But if you still want to use just your own power, or in the unlucky event you battery will run of energy, you will still be able to move independently as the VOLT Infinty is equipped with a Shimano Alfine 11-speed Di2 electronic gear system mounted inside the rear hub. Which means you can still use the bike as a normal bike also when the battery is out of power.
At the same time, though, the Shimano Steps system and the Alfine can also work together and give you a great riding experience. The model I tried had a manual shifting system (that is I had to decide my own gears and the Steps was helping me to pedal with those), but by downloading a firmware online you can also have a full-automatic alternative: the system will not only help you while pedalling, but also change the gear for you. Which is pretty addictive once you try it.
Even without the battery working, the Di2 electronic shifting can last up to two weeks, Shimano claims.
Ride
It does take a while to get use to all the buttons and the features of the Infinity's LCD display, but after you get through the adaptation process, you'll actually find it pretty easy and simple to use.
Both the black buttons on the right and left-hand side will allow you to navigate through the different system's data: time, average speed, max speed, distance; while the grey buttons on the left will let you decide which kind of set-up to choose (Eco, Norm or High assistance) and the right ones will move the gears in the hub up and down. When you'll stop at a traffic light, the system will automatically get down to the second lower one.
>>> Electric bikes and UK law: what you need to know
As already mentioned, the biggest difference I experienced with the different driving systems of the VOLT Infinity 1 was uphill. On the flat, on the other hand, I felt it a little less (although maybe that's because I'm used to being able to speed along on the flat on a road bike.
As the EU and UK laws are limiting both the power of the motors (up to 250 W) and the speed the system can assist you to (up to 15.5 mph), when you go over that speed, the system simply shuts off and stops helping you. Fifteen miles an hour is quite a high speed to have in a city, particularly on cycle paths, or in the traffic.
Finally, when you pedal on 'smart' electric bikes like the VOLT Infinity 1, the feeling is always of a constant help accorded to the force you put to your pedals (that is the goal of the torque sensor) and a general optimisation of the battery consumption, which is the result of the Steps managing system.
Specification
The frame of the VOLT Infinity 1 is aluminium and it weighs 19.5 kg without the battery, and 20.5 kg with the battery. Definitely not a lightweight, particularly if compared to other commute or folding bikes (important if you live on the third floor of a block of flats and don't fancy leaving your £2500 electric bike outside).
To keep the design clean, VOLT has also gone with internal cable routing and finished the basic setting with a VELO seat mounted on a EXA Form and a Shimano chain (the top if fully protected an covered).
VOLT advises a rider weight of 100 kg (or 125kg including luggage) depending on the front suspension settings. Suspension is provided by the Suntour NCX D-LO Coiland fork, and the level of suspension can be regulated from a full-suspension position to a fixed one without any suspension. In between, you have a huge spectrum of intermediate choices.
To complete and make the VOLT Infinity I even more attractive from a specification point of view, the company opted for Shimano Alfine hydraulic disc brakes both in the front and the rear. Disc brakes don't only offer better modulation, but also more effective in wet conditions. The wheels are Aluminium Double Wall Reinforced Alex Rim DP20 and they have got a Kenda tyres of 28".
To complete the city set-up VOLT finished the Infinity I with a Dutch Spanninga dynamo (you'll have both a front and a rear light), front and rear mudguards, and a stand on the left-hand side.
A downside of this bike, however, is the rear wheel: as it doesn't have a quick-release system to get it off but just two bolts. So, if you get a flat when you're out, it would not be quick job to fix it. Volt, however, says the bolts make the rear hub more solid and its tyres and inner tubes are super thick and made with kevlar like BMX tyres. They also add it's "very unlikely you'll get a flat".
Value
As it is a complex piece of technology, the VOLT Infinity I comes with a price of course. It costs £2,499 and you can find your nearest retailer directly on VOLT's website (where you can also book a test ride). It is a price that can shock at a first look, but it has to be considered in detail.
For this price you get a cutting edge electric bike, definitely one of the most complex, evolved and complete on the market. The Shimano Steps system – which is now featured on five different UK bike brands – along with the Li-On battery are without doubt the most expensive piece of technology mounted on it.
If you look at the road bikes market for a comparison, with the same budget you will definitely get a great bike and a great carbon-fibre frame, but not always electronic shifting, nor a great wheelset. This just to say that yes, electric bikes and the VOLT Infinity 1 are still expensive, but in this case you'll sure you'll have a top-end product. And in the future, as the materials and the technology will develop even more, batteries and other parts systems will become more affordable.
For more details visit the Volt website.
Thank you for reading 10 articles this month* Join now for unlimited access
Enjoy your first month for just £1 / $1 / €1
*Read 5 free articles per month without a subscription
Join now for unlimited access
Try first month for just £1 / $1 / €1
Nick Busca is a freelance cycling and triathlon journalist. He is also a certified triathlon coach and personal trainer.