Hoy Carbon Cages and Bottle review
Knight of the realm and 5x Olympic champion Sir Chris Hoy's bike brand 'Hoy' offers new bike accessories. We found out how well they perform.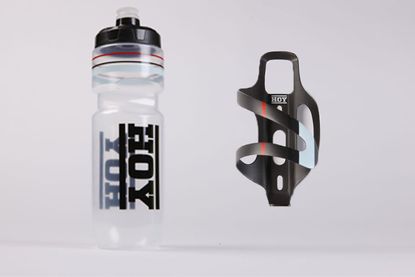 If you like the styling, have a small frame, or are a bit of weight weenie, the Hoy bottle cage could be the perfect product for you. However, we wouldn't suggest using them for Paris Roubaix. The Hoy bottles are attractive, but we were unconvinced by the valve.
Reasons to buy
+

Nice track line styling

+

Cages are light weight

+

Cage is useful if you have a small frame

+
Reasons to avoid
-

Cages can only be accessed from one side

-

Cages are not the sturdiest

-

Bottle leaked when upside down

-

Cages are expensive
Why you can trust Cycling Weekly Our expert reviewers spend hours testing and comparing products and services so you can choose the best for you. Find out more about how we test.
Are you a massive fan of Sir Chris Hoy? perhaps you own a Hoy bike and would like matching accessories? The Chris Hoy bottle cage is an attractive super light, matte carbon fibre design. The striped styling on both the cage and bottle is a nod to the lines on a velodrome track. At 25g this cage certainly won't weigh you down - but your wallet will be £34.99 lighter too.
>>> For a guide to hydration and sports drinks, click here.
So how well does the bottle cage perform? Well the first feature to note is the asymmetrical design. Whilst this may look attractive, it is not as ergonomically functional as a symmetrical cage. The reason for this is that the bottle can only be inserted from one side and this changes depending on whether the cage is mounted on the down tube or seat tube. Whilst you would no doubt get used to this over time, we found bottle entry more awkward than other cages.
It should be noted that a cage where the bottle enters more from the side can be preferable for those riding smaller frames. On a small frame, inserting a bidon from directly above might be difficult.
For cobbled classics such as Paris Roubaix, mechanics often fit sturdier cages, as rough terrain can bounce and shake bottles loose. We wouldn't recommend the Hoy cage for such endeavours. Whilst it does hold a bottle, it isn't the sturdiest design we have ever used and we did notice bottles working loose on rough terrain.
Clear bottles are useful as they allow you to see how much liquid you have left. The bottle is available with three different coloured caps and the neutral styling will look smart on any bike. At £5.99 RRP, the price won't break the bank either. One negative – we found that nozzle dripped when upside down. We noticed this when mixing and shaking energy powders in the bottles.
For more information, head over to Evans Cycles (opens in new tab) .
Thank you for reading 10 articles this month* Join now for unlimited access
Enjoy your first month for just £1 / $1 / €1
*Read 5 free articles per month without a subscription
Join now for unlimited access
Try first month for just £1 / $1 / €1
Oliver Bridgewood - no, Doctor Oliver Bridgewood - is a PhD Chemist who discovered a love of cycling. He enjoys racing time trials, hill climbs, road races and criteriums. During his time at Cycling Weekly, he worked predominantly within the tech team, also utilising his science background to produce insightful fitness articles, before moving to an entirely video-focused role heading up the Cycling Weekly YouTube channel, where his feature-length documentary 'Project 49' was his crowning glory.