TORQ Bar review
Torq is known for it's innovative flavours but does this energy bar cut the mustard?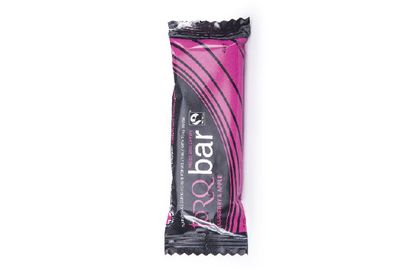 Taste & texture
The first thing you notice when you take a bite of a TORQ Bar is the incredible flavours that shine through.
With a vast assortment to choose from, it's unlikely you will get bored of trying just one of the five different flavours.
These include such delights as tangy apricot, organic mango and pineapple and ginger.
>>> Best cycling energy bars
Nutrition
Perhaps not surprisingly due to it being the smallest bar on the test, it does have the lowest carbohydrate content of all five bars being tested, with just over 32 grams per bar.
This isn't too much of an issue as long as you are aware of your carbohydrate intake and don't overindulge in multiple bars to make up for it.
Practicality
At just 45 grams in weight it is the smallest bar in the test, which means it is barely noticeable in your back pocket, weighing less than most energy gels.
This can sometimes make it tricky to find in your jersey pocket, which isn't ideal if you're looking for a bar in a rush, or riding along in difficult weather conditions.
Thank you for reading 10 articles this month* Join now for unlimited access
Enjoy your first month for just £1 / $1 / €1
*Read 5 free articles per month without a subscription
Join now for unlimited access
Try first month for just £1 / $1 / €1
Paul Knott is a fitness and features writer, who has also presented Cycling Weekly videos as well as contributing to the print magazine as well as online articles. In 2020 he published his first book, The Official Tour de France Road Cycling Training Guide (Welbeck), a guide designed to help readers improve their cycling performance via cherrypicking from the strategies adopted by the pros.