Shimano Dura-Ace Di2 review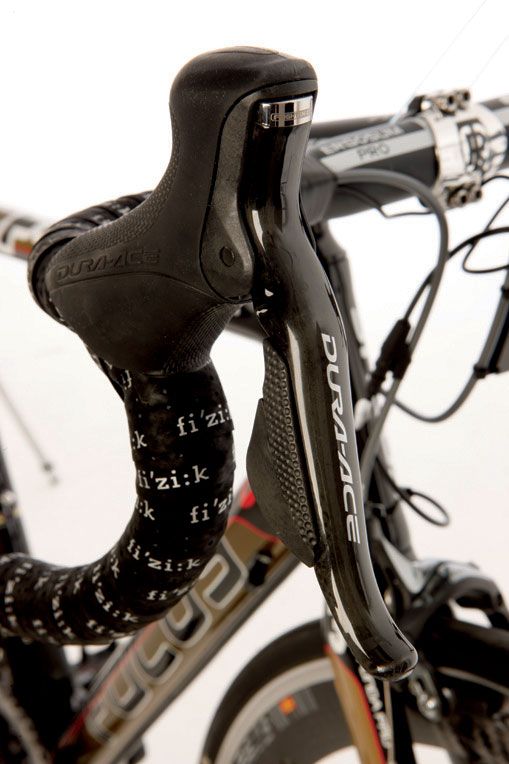 You can't help being impressed by Shimano Dura-Ace Di2, even if you are a sceptic of the whole electronic concept, and I'm sure we are nowhere near the bounds of what's possible yet, especially considering what's been achieved in other industries. To an extent I think you have to like gadgets to fully appreciate and fall in love with Di2; it's not going to sit well with traditionalists, and I am not saying it's definitely the future either, but it certainly is a mightily impressive start.
For
+

Works smoothly and flawlessly

+

Also works in the rain!

+

Better than any cable-operated system

+

A bargain on the Focus Izalco Extreme Di2 (£4,049.10 for the complete bike)
Against
-

Both derailleurs are a little bulky but we expect them to be slimmed down in later generations
We rode one of the first working prototypes of the electronic Shimano Dura-Ace Di2 over a year ago, and it's taken until now for it to be available on production bikes. The Focus Izalco Extreme Di2 is the first to be available to test.
We were keen to find out how much more refined the components had become in production, but also answer the question that was on everybody's lips: how would Shimano Dura-Ace Di2 cope with UK weather? We all know water and electricity don't mix.
Before I'd even shifted a gear I was aware of the improved lever-hood shape compared to 7900. Sure, there are bound to be differences of opinion between riders, but for me the new slimmer design found the ideal middle ground; not so 'scooped' as the new Campagnolo, but more of an ergonomic feel than SRAM's design. The textured grip was a nice addition too.
At first I found myself constantly shifting up and down the gears, pressing and playing with the buttons, like a kid with a new toy. The rear mech shifted incredibly smoothly, and rapidly too. Shimano Dura-Ace Di2 a step up from the previous Dura-Ace shifting performance, which is a big compliment. Some of that might be down to the new directional chain, but the self-learning rear mech, which you can see micro-trimming itself, means each shift should always be perfectly aligned.
It was an unusual mentality but with Shimano Dura-Ace Di2, there was an urge to try and trip it up by making unreasonable demands on it, so I went and found the steepest hill I could. Standing starts on a one-in-four while simultaneously attempting to shift from the small to large chainring should be enough to send it into meltdown — I hoped. All the time it delivered a level of shifting performance that no cable-operated system could have coped with so smoothly and flawlessly. I could not, and still cannot, fault it in this regard.
Murphy's special law for bike testers applied itself superbly and the days and weeks after getting my hands on the Izalco were completely dry, but finally the skies cracked. Di2 has now had a few good soakings, including a 50-mile circuit race in driving wind and rain, yet it has still not missed a beat.
With Shimano Dura-Ace Di2, there's always a counter to every criticism. For example, while riding flat-out, deep in the drops, I remembered thinking the shift button on the brake lever is not very easy to flick, particularly if you run your levers a bit high on the bars. But then I thought, it's still a sight easier than if you were in the same position with mechanical levers, and it's way easier when your fingers are frozen too.
Surely it's a pain having to remember to charge the battery? Hardly. I had been using it for two weeks, and thought I'd better check it, but the battery had lost almost no charge, so there's little or no issue there. It's not attractive having wires taped under your down tube, but are they any less unsightly than having steel cables there?
And so it goes on.
All of which makes the Focus Izalco Extreme Di2 an outstanding bike even before you start to look at the costs, which frankly don't add up. The complete bike costs £4,049.10 which, less groupset price, means you're getting everything else for £1,350, which makes it quite unbelievable. Our recommendation — buy one before Focus realises it's not making any money.
Thank you for reading 5 articles this month* Join now for unlimited access
Enjoy your first month for just £1 / $1 / €1
*Read 5 free articles per month without a subscription
Join now for unlimited access
Try first month for just £1 / $1 / €1
Founded in 1891, Cycling Weekly and its team of expert journalists brings cyclists in-depth reviews, extensive coverage of both professional and domestic racing, as well as fitness advice and 'brew a cuppa and put your feet up' features. Cycling Weekly serves its audience across a range of platforms, from good old-fashioned print to online journalism, and video.