GOFLUO outerwear review: A must-have for the gloomy season or year-round city riding
GoFLUO makes seriously bright apparel with a modern and stylish twist; 'it's the kind of hi-vis you actually want to be wearing'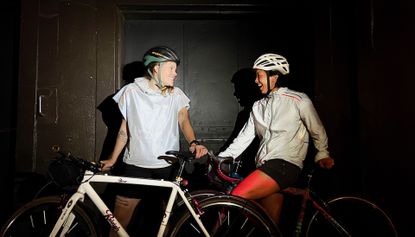 (Image credit: Anne-Marije Rook)
While not the kind of a light, packable and snug-fitting layer you'd want to carry with you on a long ride, GOFLUO's outerwear is an absolute must-have for anyone on the go in the low-light or dark hours. The pieces are fun, stylish and visible up to 150 meters away — the hi-vis you actually want to be wearing.
Reasons to buy
+

Next level brightness

+

Great coverage

+

Fun designs and styles
Reasons to avoid
-

Garments are a tad heavy

-

Loose fit

-

Not necessarily performance-oriented
You can trust Cycling Weekly. Our team of experts put in hard miles testing cycling tech and will always share honest, unbiased advice to help you choose. Find out more about how we test.
We've officially entered the dark and gloomy season. The days are short; if you commute to and from work, you're probably spending most of your ride in the dark. Even the scarce daylight hours are grey, with only occasional glimpses of a pale sun. With the increased rain, fog, and limited daylight hours, visibility is a problem for all road users, but for motorists traveling at speed especially. As someone riding a bike, being bright and visible in these adverse conditions is the best way to prevent car-bike conflicts. Luckily, there's a wide range of hi-vis products and lights on the market to help you be seen. But even in this glowing category, the GOFLUO products are, well, a standout.
GOFLUO is a Belgian apparel brand founded in 2018 by designer Julie Vets, a mother of two looking to create hi-vis products that are a bit more fashionable than the common safety vest. From vests and jackets to gloves and handbags, GOFLUO makes products for running, walking and cycling as well as everyday errands, because a little extra visibility can only be a good thing. These products are made for adults and kids alike and have become quite popular in Europe. In 2023, after a successful few years growing in the European market, GOFLUO decided it was ready to take on the North American market and, in addition to working with several U.S. retailers, opened a presence in New York this summer.
"Every day, thousands of us hop on our bikes or walk to school and work. We go jogging, walk the dog, or cycle to unwind. On all these occasions, we are vulnerable road users. It's vitally important to wear the right reflective accessories. GOFLUO wants to help you turn into an eye-catcher in a fashionable way, thereby reducing the risk of accidents whilst in traffic," the brand states.
GOFLUO tested
Hi-vis with a modern twist, GOFLUO offers a variety of collections with eye-catching everyday pieces that blend modern design and fun colors with full-coverage reflectiveness that, the brand claims, is visible up to 150 meters (492 feet) away.
I received a windbreaker jacket —the Travis— and a mesh sleeveless hoodie — the Polly— in for testing.
The Travis Windbreaker
$190
Unisex sizes XS-XL
The Travis is a fully reflective, unisex windbreaker with a retro racing-stripe design.
Features include a two-way zipper, a longer tail for extended back coverage, elastic cuffs and a zippered side pocket. Perforated panels are meant to keep the inner temp down while the remainder of the stretchable polyester jacket is windproof and water resistant.
Fit: Made for an active lifestyle, the windbreaker features a roomier fit to allow freedom of movement. There's also a drop tail for backside coverage. Unisex, the Travis is available in sizes Xs to XL, with a cut that is meant to fit most.
Visibility: The standout feature of the Travis jacket is its exceptional, full-coverage visibility. GOFLUO calls these wildly reflective pieces "bodyglowers," and it's a very apt name, as wearing the Travis makes you truly glow. Both in bright sun and low light, the reflectiveness makes the jacket pop. And when a car headlight hits you, the jacket is almost blindingly bright but in the best way possible. You simply can't be missed.
What I like: A nineties kid, I was drawn to the retro aesthetics of the windbreaker. The jacket is mostly grey with subtle neon red and blue stripes, making this jacket far less loud than the many solid neon yellow or orange jackets on the market. At the same time, I audibly wowed the first time I wore this jacket at night. It's so bright! The material is weighty but I felt comfortable wearing the jacket, and, perhaps most importantly, I actually want to wear the jacket. Despite its high visibility, I don't feel like I look like a traffic controller.
What I didn't love: When I first received the jacket, I was a bit surprised by how heavy it is. While a relatively thin jacket, it weighs in at just over 11 ounces or .7 of a pound. The fit is also rather large and baggy. I usually wear a women's medium and the unisex small is baggier than I'd like. This is not a light, packable windbreaker you'd take on a club ride or long road ride. However, for bike commuting, riding around town, walking your dog or running errands, this is a perfectly comfortable and stylish way to ensure you're seen.
The Polly Hoodie
$120
One size fits most
The Polly is a fully reflective, mesh sleeveless hoodie with a cropped fit. Made of a perforated, breathable and stretchable polyester fabric, the Polly is for those on the move — be it running or biking.
Features include a full-coverage reflectiveness, deeply cut armholes for extra freedom of movement, a hood, drawstrings in the hem and hood for a personalized fit and a front pocket with a hidden zipper.
Fit: Made for an active lifestyle, the sleeveless hoodie is meant to be worn as an outer layer with lots of room to move around freely. Much like a vest, the Polly comes only in one size that's meant to fit most. It's roomy, but it fits me well, and the drawstring in the hem allows me to cinch in the bottom. I'd imagine that the hoodie could be a tad restrictive for those on the taller or larger end of the size chart, so I would suggest consulting the GOFLUO size chart before purchase.
Visibility: Like the Travis jacket mentioned above, the visibility of the Polly is simply exceptional. Despite the mesh fabric, the Polly reflects light, any light, tremendously well, making the wearer stand out.
What I like: The hoodie features a sporty cut that's stylish enough to be considered athleisure wear yet also offers complete freedom of movement for those wanting extra visibility on their morning run. The solid grey fabric paired with neon accents is visible without being overly loud or resembling a safety vest.
What I didn't love: At 12 ounces ( .75 pounds), the hoodie is surprisingly weighty and not very packable. It does wear well, but it's not the kind of layer you bring along 'just in case' or take off mid-ride. You start and end your outing wearing it. The one-size-fits-most works for me, but it may not suit everyone.
Verdict
While not the kind of a light, packable and snug-fitting layer you'd want to carry with you on a long ride, GOFLUO's outerwear is an absolute must-have for anyone on the go in the low-light or dark hours. The pieces are fun, stylish and visible up to 150 meters away — the kind of hi-vis you actually want to be wearing. The outer layers are seriously bright, providing a certain ease of mind, knowing that fellow road users are bound to see you, even in the most adverse weather conditions.
At $120 and $190 for The Polly and The Travis, respectively, the pieces certainly aren't cheap, but I see them as a well-spent investment in your visibility and safety — especially if your commutes, errands, runs, or dog walks see you interacting with traffic is the darker hours of the day.
---
Thank you for reading 20 articles this month* Join now for unlimited access
Enjoy your first month for just £1 / $1 / €1
*Read 5 free articles per month without a subscription
Join now for unlimited access
Try first month for just £1 / $1 / €1