Rudy Project Racemaster helmet review
The Racemaster is a very comfortable helmet with a great fit system – also available in black or white if you're not keen on the gold velvet of the Bahrain-Merida team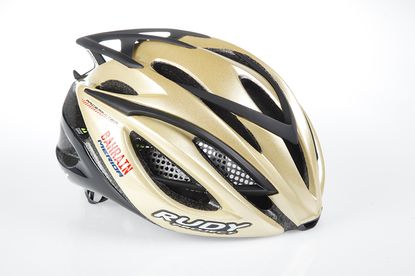 Rudy Project has done a good job with the Racemaster helmet. It fits very well and is cushioned very well. The retention system is highly adjustable and ensures a snug fit without pinching or discomfort.
Why you can trust Cycling Weekly Our expert reviewers spend hours testing and comparing products and services so you can choose the best for you. Find out more about how we test.
Don't be put off the Rudy Project Racemaster helmet by the 'gold velvet' colours of our sample or the little added styling pieces, as the helmet does sit well on the head and doesn't look odd at all.
>>> Best bike helmets: a buyer's guide
Rudy Project helmets have been a bit 'Marmite' in the past due to their Euro looks, but what is beyond dispute is how comfortable the Rudy Project Racemaster helmet is. The Adjustable Comfort Fit system at the rear is easy to use – including while on the fly – to find your head shape. Pressure feels spread around the skull rather than just at the front and back, limiting pinch points.
Video: road vs aero time trial helmets
This is enhanced by the feel of the straps and by the pads on the inside of the helmet, too. These are all thin but adequately cushioned as well as being well positioned.
The hairnet that Rudy Project uses to stop bugs and debris getting into the lid is a nice idea, though it does hinder airflow a touch and I would say the Racemaster runs a little hotter compared with other vented helmets like the Lazer Z1.
Although I haven't thrown myself down on the road to test Rudy Project's safety claims it does state that the In Mold technology used is a combination of its EPS structure, polycarbonate shell and exoskeleton which "creates a mechanical action exercised by an impact and dissipates the energy to prevent it from being transferred to the head." Of course any added protection is always welcome.
At 290 grams, however, it is a little weighty for a high-end helmet – 60 grams more than a Giro Synthe, for example. This is noticeable, but it isn't as though you can't hold your head up after a 100-mile ride.
Reflective detailing on the helmet straps and at the rear of the lid is a nice touch; Rudy Project has also made a nice rear sunglasses port to hide your sunnies safely without them dangling at the front and obstructing your vision.
A top helmet, thankfully available in all the normal colours.
Thank you for reading 5 articles this month* Join now for unlimited access
Enjoy your first month for just £1 / $1 / €1
*Read 5 free articles per month without a subscription
Join now for unlimited access
Try first month for just £1 / $1 / €1