Specialized S-Works Evade Helmet review
The Specialized S-Works Evade helmet is one of the most popular lids on the market and is the choice for many teams in the professional peloton. How does compare to others and does it get too hot? read on to find out.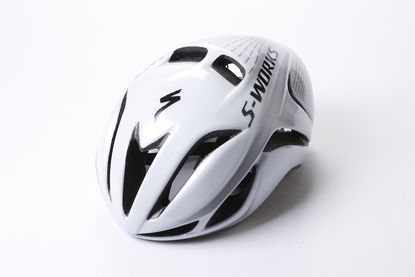 (Image credit: mike prior)
A very good aero helmet, ideal for those racing in temperate weather.
Reasons to buy
+

Aero

+

Fairly light

+

Very good retention system

+

Comfortable
Reasons to avoid
-

Warmer than a traditional helmet

-

Looks divide opinion

-

Expensive
When Mark Cavendish sprinted to victory in the 2011 World Championships he was wearing a Specialized Prevail, with a special cover, designed to seal the vents and make him faster. Other riders and helmet manufactures noticed and since then we have seen the emergence of the aero road helmet.
>>> Buyer's guide to road bike helmets
The Specialized S-Works Evade has been worn en route to many famous wins. It was worn to victories in Paris-Roubaix, the Tour de France and World Championships, supporting Specialized's claims the helmet can save the rider as much as 40 seconds over 40 kilometres over a conventional road helmet. In the absence of our own wind tunnel testing, it is impossible to back up Specialized's claims.
>>> Does an aero road helmet make you faster?
However, I can report that this helmet feels fast and is very quiet at high speed, with noticeably low wind noise than other helmets. Our sample was a size medium weighing 278g, compared to 224g for the S-Works Prevail (Specialized's lightweight helmet). This difference was barely noticeable when holding both helmets in each hand and even less noticeable when worn.
>>> How much faster is a TT helmet
Having used the helmet for a year, I am very impressed as it is amongst the most comfortable I have ever worn. The "Mindset" fitting system works well and the micro dial allows for fine adjustment whilst riding. I really like the aesthetic profile of the helmet, but I am aware that others strongly dislike it. While the Prevail is comparatively wide and square shaped, often transforming wearers' heads into "mushrooms", the Evade is narrower and more rounded.
Watch: aero bike vs lightweight bike - which is faster uphill?
Regarding ventilation, I decided to put it to the ultimate test of climbing the fearsome 12.4km long, 10.5% Mortirolo pass in 28ºC heat, on a sunny August day. The helmet performed admirably. It is slightly warmer/sweatier than the Giro Synthe, but I felt no urge to take it off.
It is hard to fault the Evade, but it would be good to see more colour options. At £160, this helmet is firmly within the premium bracket, but it is significantly cheaper than the aformentioned Giro Synthe.
For more information, head over to Specialized.
Thank you for reading 10 articles this month* Join now for unlimited access
Enjoy your first month for just £1 / $1 / €1
*Read 5 free articles per month without a subscription
Join now for unlimited access
Try first month for just £1 / $1 / €1
Oliver Bridgewood - no, Doctor Oliver Bridgewood - is a PhD Chemist who discovered a love of cycling. He enjoys racing time trials, hill climbs, road races and criteriums. During his time at Cycling Weekly, he worked predominantly within the tech team, also utilising his science background to produce insightful fitness articles, before moving to an entirely video-focused role heading up the Cycling Weekly YouTube channel, where his feature-length documentary 'Project 49' was his crowning glory.