Ekoi Heat Concept overshoes review
If you suffer from cold feet when out riding in the winter, the Ekoi Heat Concept overshoes might help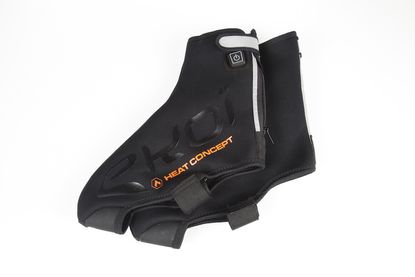 The Ekoi Heat Concept overshoes are probably the only option out there which actively tackles cold feet rather than just hoping your body heat will keep you comfortable. As such, they may be worth considering if you have a problem with cold feet, despite their high weight and price tag.
Reasons to buy
+

Added warmth for your feet
Reasons to avoid
-

Extra moving weight

-

Washing not recommended

-

Should not use in heavy rain

-

Expensive

-
Why you can trust Cycling Weekly Our expert reviewers spend hours testing and comparing products and services so you can choose the best for you. Find out more about how we test.
Rather than just trying to keep your feet warm with insulation, the Ekoi Heat Concept overshoes have a double battery pack in a pouch in the side of each overshoe's ankle cuff and heating elements built into the overshoe fabric.
The degree of heating (and the battery life) is controlled via a push button on the outside edge of the cuff, so you can change the heat level as you ride, perhaps reducing it once you've warmed up to conserve battery life.
An LED in the button changes colour to tell you the level of heating that you've selected. Ekoi says that this varies from 25C with a run time of up to 5 hours, up to 40C with a maximum run time of 2 hours. There are 30C and 35C levels in between too.
>>> The best cycling overshoes
The Ekoi Heat Concept overshoes themselves are made from neoprene with a fleece lining. So even without the batteries they're quite bulky. I found I quickly scuffed the fabric on my cranks. The additional weight from the batteries is also noticeable. But the heating is very efficient – you're unlikely to need the 40C setting for long.
The base of the Ekoi Heat Concept overshoes is open and the two sides are held together with a Velcro strap. This works well enough, although if you're riding with typical vented summer shoes under the Ekoi Heat Concept overshoes, you'll end up with damp feet from wheelspray. The underside of the toe is more robust, although the taping around the edge of the base is prone to damage from putting a foot down and clipping in.
>>> Ekoi Heat Concept gloves review
The Ekoi Heat Concept overshoes are sold in three sizes, to cater for foot sizes from 40 to 47. They come with a battery charger, although this uses the continental two prong plug, so you'll need some sort of adapter to charge it from the UK mains. It takes anything up to 5 hours to charge the batteries, if you've run them down fully during a ride.
http://www.youtube.com/watch?v=KJR2Sr2Ige8
Ekoi says that you should switch off the heating elements in heavy rain, when there's a risk of short-circuiting the batteries. You should surface wipe the overshoes, rather than putting them through the washing machine too, so they do quickly become dirty-looking.
Overshoes tend to give up after a season or two and the Ekoi Heat Concept overshoes look unlikely to fare any better despite their substantial design and price tag. But if your rides are made miserable by cold feet, they may just be what you need to keep on riding through the winter.
Thank you for reading 5 articles this month* Join now for unlimited access
Enjoy your first month for just £1 / $1 / €1
*Read 5 free articles per month without a subscription
Join now for unlimited access
Try first month for just £1 / $1 / €1