PowerTap G3 Hub review
The PowerTap G3 Hub is a rear-hub-based power meter. It is one of the most established power meters on the market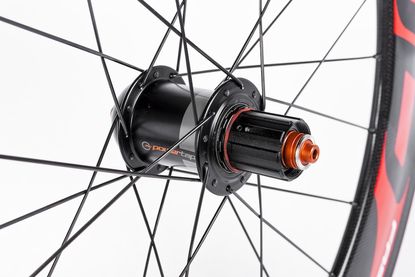 (Image credit: Cycling Studio)
Overall this is an excellent power meter. Reliable and accurate, we highly recommend the PowerTap G3. The only downside is that you either have to own two, or use the same wheels for racing and training if you want power.
Reasons to buy
+

Reliable

+

Good warranty

+

Accurate

+

Tried and tested design
Reasons to avoid
-

If you use separate wheels for training and racing, you may not always have power

-
Why you can trust Cycling Weekly Our expert reviewers spend hours testing and comparing products and services so you can choose the best for you. Find out more about how we test.
Hub-based systems such as the PowerTap G3 are among the most simple power meters on the market. With fewer variables acting on the strain gauges, many engineers regard the hub as the most accurate location to measure power.
Power measurement will be slightly lower here than on a pedal or crank system as you are measuring what is left post-drivetrain losses. This means that if your chain is dirty, your power reading will be slightly lower than if clean.
Buy now from ProBikeKit for £462.49 (opens in new tab)
The PowerTap G3 gives you a combined measurement of the power produced from both right and left legs and does not measure independently. While not essential, if you require specific right and left leg independent measurement you may want to consider the PowerTap P1 pedals or Garmin Vector.
The PowerTap hub is one of the most widely used and established power meters on the market and for good reason – it has been around in different models for over 15 years.
You have the option of buying just the hub, which can be installed into a wheel, or the more convenient option of purchasing the hub already built into a wheel. The PowerTap G3 Hub we have pictured here is built into a very aero Fast Forward F9R rim, but there are plenty of options.
An alloy clincher with G3 hub typically costs around £699.
Manual calibration of the PowerTap G3 is very easy, as is changing the battery which typically lasts 160 hours or so. The battery is CR2032 coin cell, the same as most heart rate straps. A special tool is supplied to remove the battery cover, but I have found myself without said tool on a number of occasions where I needed to change the battery.
Fortunately there is a neat 'hack' you can do with an inner tube to remove the battery cover without damaging the wheel. I suggest you Google it if you are ever caught without the tool.
Temperature can affect strain gauges and the power reading, but the G3 is better at dealing with this than previous models.
The G3 will auto-zero when you freewheel and is a very accurate unit, which benefits from simplicity of design. Durability is amongst the best we have encountered on a power meter too.
The main disadvantage comes when you have separate wheels for racing and training. However, two G3 hubs can still work out cheaper than some of the more expensive units. A lack of thru-axle compatibility is worth factoring in too.
Connectivity is both ANT+ and Bluetooth Smart, meaning that updating firmware is easily done with your phone app. The connectivity also means you don't have to worry about head unit compatibility.
Thank you for reading 10 articles this month* Join now for unlimited access
Enjoy your first month for just £1 / $1 / €1
*Read 5 free articles per month without a subscription
Join now for unlimited access
Try first month for just £1 / $1 / €1
Oliver Bridgewood - no, Doctor Oliver Bridgewood - is a PhD Chemist who discovered a love of cycling. He enjoys racing time trials, hill climbs, road races and criteriums. During his time at Cycling Weekly, he worked predominantly within the tech team, also utilising his science background to produce insightful fitness articles, before moving to an entirely video-focused role heading up the Cycling Weekly YouTube channel, where his feature-length documentary 'Project 49' was his crowning glory.